Blog
15 Delicious Non-Meat Foods You Need to Grill This Summer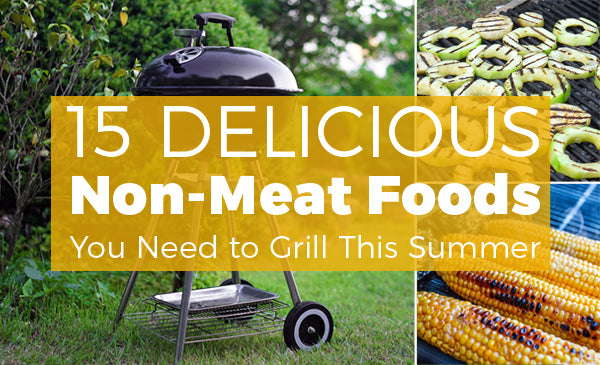 When we think of grilling, meat is generally the first item that comes to mind. Did you know there are so many other delicious and healthy foods that taste amazing off the grill? Many vegetables and fruits taste amazing when they are grilled. Pizza has a wonderful smoky taste, and cheese becomes soft and creamy over the open flame.
Our
Precision Pro Digital Food Thermometer
and our
Elite Thermocouple
are great tools to monitor the internal temperatures of your grilled dishes. EatSmart instant-read digital food thermometers give readings quickly and guarantee your meals are cooked to perfection.
Expand your party menu with 15 of our favorite foods to BBQ and some recipe inspiration to keep you grilling all summer long.
15 Non-Meat Foods to BBQ this Summer:
Eggplant
How to grill it: Grilled eggplant is deliciously creamy inside and crispy on the outside. Simply slice peeled eggplant into 1" slices and brush with olive oil and grill for 6 minutes on each side, until tender.
Pineapple
Grilling pineapple cuts down on the acidity and brings its natural sugars to the surface for a sweet treat. Cut the pineapple into wedges or rings and grill for about 3 minutes on each side.
Asparagus
For an easy and delicious side dish toss your asparagus with a little olive oil, salt, and pepper and then place directly on the grill for 2 -3 minutes.
Recipe idea:
Asparagus is also a main ingredient in
Grilled Pasta and Vegetables
and, yes, the pasta is also grilled!
Tomatoes
Grilled tomatoes add a smoky sweet taste to salads, gazpacho, and pasta dishes. Slice the tomatoes in half, brush the cut sides with olive oil, and place on a grill over high heat for about 3 minutes.
Zucchini
Zucchini is plentiful in the summer and cooks easily on the grill. You can slice it, brush it with olive and grill directly on the grate.
Recipe idea:
Another delicious way to enjoy zucchini is to slice it into rounds, add in ½ of a sliced medium onion, and toss together with 1 – 2 tablespoons of olive oil and 1 teaspoon Italian seasonings. Place into a foil square and fold it closed. Place on medium high heat and grill until tender, 8 – 10 minutes.
Polenta
Brush polenta rounds with olive oil mixed with herbs of your choice and grill over direct heat, turning once, until marked, for 5 to 10 minutes.
Recipe idea:
Grilled polenta goes particularly well with the grilled tomatoes and zucchini, top with parmesan cheese for extra flavor.
Corn on the cob
Corn can be grilled either in or out of its husk, brush with melted butter or olive oil if grilling without the husk. It takes about 12 minutes on a medium high heat.
Recipe idea:
Squeeze a wedge of fresh lime over the cooked cob, sprinkle with cayenne pepper and cilantro, and top with queso fresco.
Bananas
Cut bananas in half lengthwise, leaving the peel on. Place bananas cut side down on grill. Cover and grill over medium heat for 3 minutes, turn, cover, and grill 5-6 minutes longer or until tender. Peel bananas and sprinkle with cinnamon or honey to eat.
Recipe idea:
Make a grilled banana split. Top the grilled bananas with ice cream, mini chocolate chips, nuts, sprinkles, and a cherry.
Pizza
Premade crusts and frozen pizzas can both be cooked on the grill instead of the oven. Grilling allows you to skip turning on the oven on hot summer days plus it gives the pizza a nice, smoky flavor. Simply place it directly on the grate, cover and let it cook. When it's finished, use tongs to drag it off the grill and let cool for at least 3-minutes before cutting into slices and eating. We recommend that you test the temperature with your
Precision Pro Digital Food Thermometer
to prevent scalding your mouth; 170 degrees F is generally a safe temperature. If you want to make your own dough and grill it, check out this
recipe
from The Kitchn.
Pro tip:
For best results, used a seasoned pizza stone and adjust the heat to 375 degrees.
Vegetable kabobs
While any vegetables will work, you should choose vegetables that take approximately the same time to cook. We like the combination of zucchini, yellow squash, whole button mushrooms, red onion, bell peppers, and pineapple, cut into similarly sized chunks. Your
Precision Digital Kitchen Scale
comes in handy for making sure the vegetables are uniform in volume. It's easy to use, and the recessed platform keeps the veggies from rolling off.
Recipe idea:
Assemble cut vegetables and pineapple on skewers. For 8 skewers, combine 1/3 cup olive oil, 1 tablespoon of Italian seasoning, ½ teaspoon of salt and ¼ teaspoon of fresh ground black pepper in a small bowl and brush kabobs with mixture. Grill for 10 – 15 minutes.
Stone fruits
Plums and peaches are delicious on the grill. Cut the fruit in half and remove the pit (stone) and brush with olive oil. You can eat them as dessert with a sprinkle of cinnamon and topped with vanilla yogurt or you can sprinkle them with basil and use them as a topping for savory dishes such as fish or chicken.
Portobello mushrooms
Take a break from meat burgers and grill meaty tasting portobellos instead. Brush with a mixture of olive oil and balsamic vinegar, 5 min each side. Serve on a bun with your usual burger toppings or over a bed of baby spinach dressed with olive oil and balsamic.
Romaine lettuce
Lightly oil grill grates and then heat grill. Cut romaine heads in half and lay directly on grill. Remove when charred in spots, or after 2 – 3 minutes. Use the grilled romaine in your favorite Cesar salad or top with a Creamy Lemon Pepper Dressing.
Recipe idea: Creamy lemon pepper dressing
- Stir together 2 tablespoons olive oil, ½ cup plain yogurt, and 1 tablespoon of lemon juice, ¼ teaspoon salt and generous amounts pepper.
Brie
Place cheese on a large piece of foil. Drizzle with about a tablespoon of olive oil, then fold foil to cover the cheese completely. Grill the cheese until melted, about 5-10 minutes, depending on the size of the wheel. Check it every few minutes. When it feels loose and soft to touch, it's time to remove from the grill.
Recipe idea:
Top with cherries prior to cooking and after grilling drizzle a little balsamic vinegar cheese for an added flavor punch.
Watermelon feta salad
Cut seedless watermelon into 4 (6-inch-long, 1-inch-thick) slices. Brush 1 side with oil and grill over high heat, undisturbed, until seared, about 4 minutes.
Recipe idea: Mint lime dressing
– Mix 2 tablespoons of olive oil, 2 teaspoons of lime juice, 2 tablespoons of finely shredded mint leaves, and salt to taste; add watermelon, toss, and top with crumbled feta.
Does the thought of hosting a barbecue have you a bit stressed? Check out our stress busting tips in
The Secrets to a Healthy and Successful BBQ
.