Blog
7 Reasons Every Business Traveler Needs a Luggage Scale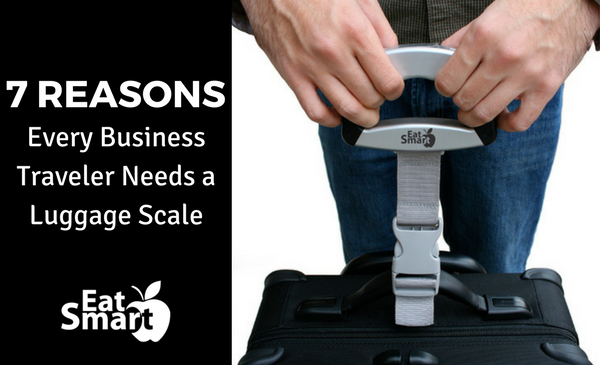 Business travelers rarely have time or money to waste. At the airport, the last thing they need is to spend precious time rearranging their luggage or be forced to pay an overweight baggage fee. Fortunately, this is a big problem with a simple solution. A reliable luggage scale is a savvy accessory that will save business travelers both time and money by providing the exact weight of their bag before leaving for the airport. Even for someone who travels all the time, packing can still be a daunting task. All travelers will appreciate the ways a lightweight digital luggage scale can eliminate stress and enhance their overall travel experience.
Top 7 reasons why every business traveler needs a luggage scale:
Know before you go
A digital luggage scale, such as our
Precision Voyager Digital Luggage Scale
, allows you to know the exact weight of your suitcase before you leave the house. It enables travelers to quickly and easily weigh luggage up to 110 lbs / 50 kg so they aren't surprised at the airport when stuck paying overweight baggage fees. Simply clip the scale to your suitcase or bag, and lift. When the weight has been determined (within a few seconds), the scale beeps and the luggage weight will instantly appear on the large, backlit LCD screen.
Save time
Knowing your bags are under the weight limit saves time by eliminating the need to redistribute items between your bags while at the airport. No more scrambling to move necessities from one bag to the next while waiting in line at the check-in counter.
Reduce stress
Airlines have become very strict about baggage fees and will charge
$50 or more per bag
even if the suitcase is only a few pounds over. Trying to get to your destination is stressful enough. There's no need to worry about the weight of your luggage as well.
Save money
By staying within your carrier's luggage weight limits, you avoid paying overweight baggage fees. In addition, you save even more since you don't have to toss and then replace any of the items in your suitcase.
Pack lighter
For business meetings, especially extended trips, you need enough clothing to maintain your appearance but rarely do you need as many items as you think. Knowing that your luggage is at capacity can help you eliminate a few extraneous pieces so you end up with just the right amount of clothing.
Simplify overseas travel
The Voyager Luggage Scale is ideal for traveling abroad. With the press of a button, you can switch between pounds and kilograms. No more Googling for the conversions or trying to do the math in your head. Some international flights also have weight limits for carry-on bags. Knowing how much your carry-on weights saves you headaches at the airport.
Find peace of mind
The Voyager scale only weight 5.5 ounces, making it lightweight enough to stash in your luggage for the return trip. Whether you are taking home items from your business meeting or a few souvenirs, you can be confident that your bags stay within the weight limit.
The Precision Voyager Digital Luggage Scale can save even the most experienced business travelers time and money. For a more in-depth look at our Precision Voyager, visit the post, Product Spotlight: Meet the EatSmart Precision Voyager Digital Luggage Scale. You may also enjoy reading Top Packing Tips for Air Travelers – How to Pack Successfully Every Flight.
Do you have questions about the Precision Voyager Digital Luggage Scale? We're here to help! You can comment below or tweet them to us at @EatSmartScales.