Blog
Back to School: Tips For Packing Quick and Healthy School Lunches and Snacks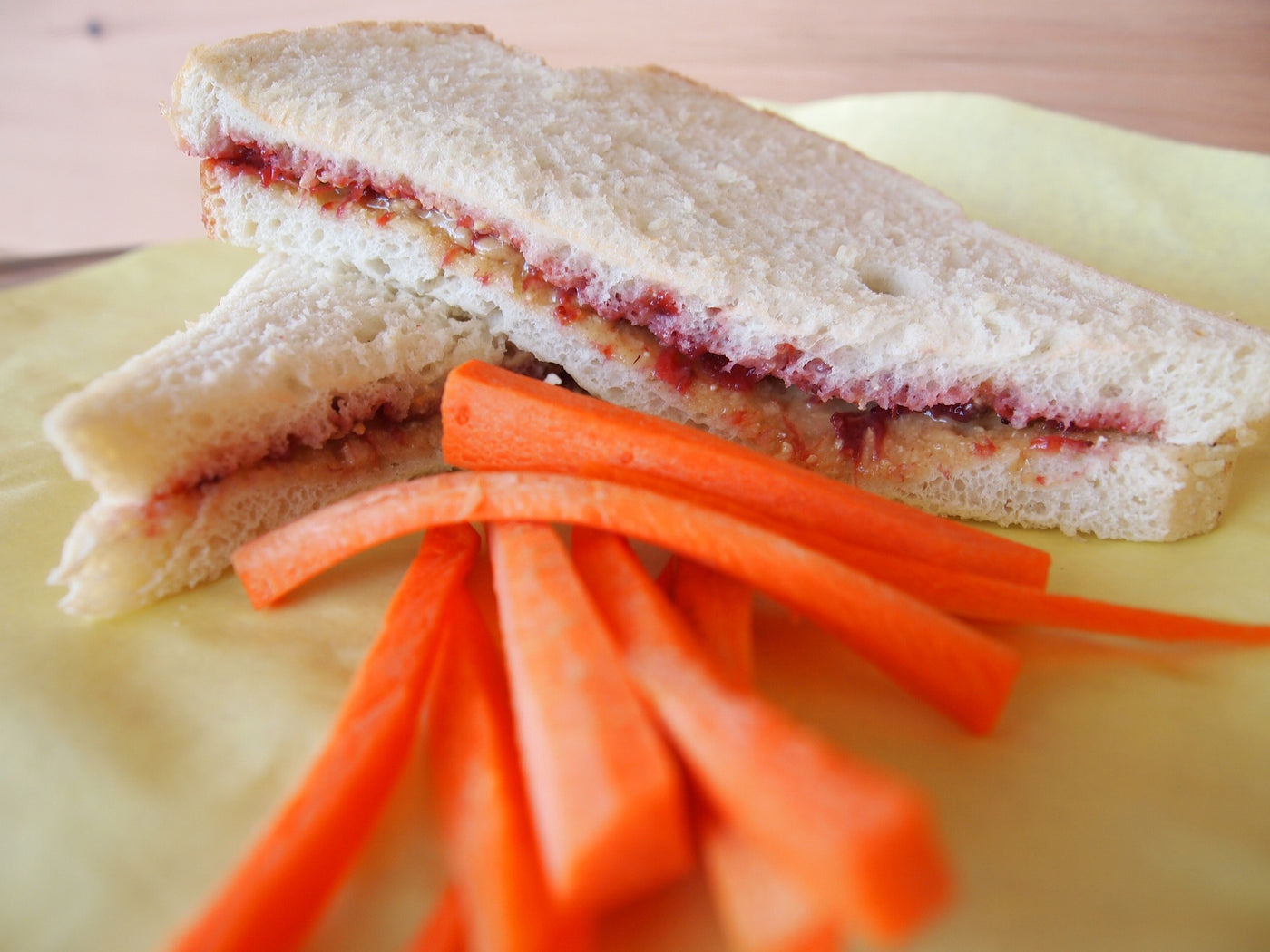 It's that time of year again – the kids are going back to school! While it may not be on the official list of school supplies, it's important to have a plan for healthy lunches and snacks for your children. Often, lunches brought from home may be lacking in essential nutrients. The easy option is to throw in pre-packaged snacks that can be high in sugar and fat. The ideal school lunch includes a variety of fruits, vegetables, whole grains and proteins. A healthy lunch will help keep your child focused, full and happy for the remainder of the school day. For busy families, preparing school lunches needs to be fast, effortless and affordable. Start the school year right by establishing a healthy, easy lunch and snack routine that is both parent – and kid – approved.
The Essentials of a Healthy School Lunch:
Switch to whole grains
Swap out white breads, crackers, and pretzels for whole grain choices. 100% whole grains have more fiber to help keep them full longer and they have more vitamins and minerals than white flour.
Choose quality proteins
Choose lean meats like chicken, roast beef, or turkey. Tuna in pouches can be a good choice for an older child. Hard boiled eggs, yogurt, nuts, nut butters, quinoa, and beans are also protein packed choices.
Always include veggies
Kids may not eat raw vegetables by themselves but they enjoy dipping them in their favorite sauce, dressing, hummus or guacamole. If your child is not a fan of raw veggies, try roasting or grilling them. Go with whatever method will encourage your child to eat them.
Buy seasonal fruit
Fruits that are in season will taste better and are a more economical choice. If you want to pack a fruit cup instead, choose one that is packed in its own juices rather than syrup.
Hydration is key
Hydration is important to keeping kids focused and energized so be sure to add in water, milk, or a lower sugar, natural fruit juice. Fruits and vegetables that have high water content, such as watermelon, lettuce, grapes, berries, and cucumbers, can also help hydrate them.
Add a small treat
Kids enjoy having a treat and a small indulgence will give them something to look forward to. A piece of dark chocolate, a granola bar, or a healthier cookie will satisfy their sweet tooth without adding too much sugar.
---
Quick and Easy Snack Ideas for School:
A healthy afternoon snack to help keep children energized and full until dinner time. These are especially important if your kids attend after school programs or participate on sports teams.
Granola or kid-sized energy bars
Choose bars that are high in protein and fiber and low in sugar. It's easy to make your own and avoid partially-hydrogenated oils and high fructose corn syrup. Here is a round-up of some of our
favorite granola bar recipes
.
Fruit and yogurt
Fruit with high-protein Greek yogurt is a tasty option. Plus, you will sneak in extra calcium to their day.
Veggies and dip
Choose a protein-rich dip such as hummus or a bean dip and pair with grape tomatoes, celery, carrots, or cucumbers.
Apples or celery and nut butters
Slice up apples or celery sticks, and top them with your favorite nut butter and a sprinkle of cinnamon, cocoa or raisins. For easy transporting, wrap in aluminum foil or place in Tupperware.
Small whole grain muffins
Choices such as
Healthy Blueberry Banana Bread with Oatmeal and Flax
or
Strawberry Banana Quinoa Bran Muffins
, are delicious and packed with nutrients. They are easy to make and can be frozen to eat throughout the week.
Trail mix
Trail mix is a great combo – it's a little salty, sweet and full of nutrients. Nuts are rich in healthy fats, high in dietary fiber, a good source of protein and a wide variety of important vitamins, minerals and antioxidants. Use your
Precision Digital Kitchen Scale
to measure out single servings and place them in small containers or sealable baggies. The recessed platform of the precision scale keeps smaller foods from rolling off the scale.
---
3 Tips to Make Packing Lunches Easier:
#1 Get the children involved
Kids love being in charge, so ask your little one to help you prepare their lunch. This also gives them a say in what they would like to eat, making them more likely to finish the meal. Let them choose from two or three items that you have on hand, so you can send them off with foods they will eat, not foods you wish they will eat.
#2 Use reusable containers
Small thermoses, bento boxes, sandwich holders, and snack containers keep foods contained and neat without a lot of waste. When necessary, choose containers that have ice packs to ensure foods stay at the proper temperature.
Pro Tip: Have your child bring home all containers every day and you can see what they're eating and how much. This allows you to adjust their portion sizes, so nothing goes to waste.
#3 Keep it fresh
Eating the same thing can get boring. Mini pancakes or small waffles can be spread with nut butter and fruit for fun twist on the sandwich. Or skip the sandwich all together and pack a small container of soup, hard boiled eggs, veggies with dip, and cheese cubes. Leftovers from the night also make a good lunch. Grilled meats, pizza, or pasta all taste good cold. Other foods can be warmed and added to a thermos. Remember to get creative whenever you can!
Creative School Lunch Idea from Skinnytaste
Choosing foods you feel good about and your child enjoys starts the school year off on the right note. Bringing healthy lunches from home will help your child develop good eating habits that will last a lifetime. You may also be interested in
10 Bad Eating Habits Parents Often Teach their Kids
.
Do you have healthy lunch ideas that you want to share? Tweet them to us at @EatsmartScales.