Return
September 14, 2012
Blog
Spicy Buffalo Hummus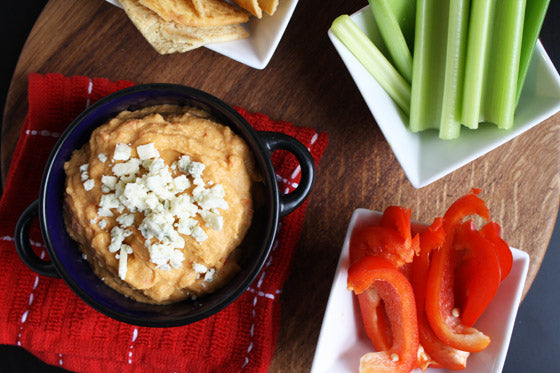 Guest post by Holly, owner of the blog
The Healthy Everythingtarian
. Forget eating spicy buffalo wings, this meatless hummus satisfies the craving just as well!
Ingredients: (1 1/2 cups)
1 (15-oz) can garbanzo beans (Deshelled - simply pinch the garbanzo bean with your fingers, and the skin should peel right off. Peeling the skin ensures for an extra smooth, creamy hummus) 1 T tahini 2 T olive oil 2 – 3 T buffalo wing sauce or hot sauce juice of 1/2 lemon 1/2 red bell pepper, roughly chopped 1 t garlic powder salt + pepper, to taste 1/4 cup blue cheese crumbles pita chips, red bell pepper + celery, for dipping
Directions:
In a blender or food processor, blend beans, tahini, olive oil, buffalo sauce, lemon, bell pepper and garlic until smooth. Season to taste. Serve in a bowl, top with blue cheese crumbles and eat with dippers of your choice.
About the Author: Holly is the author behind the award-winning healthy food blog,The Healthy Everythingtarian. She is a freelance writer + graphic designer by day and a Wisconsin beer connoisseur by night.