Blog
Thanksgiving Leftover - Turkey Soup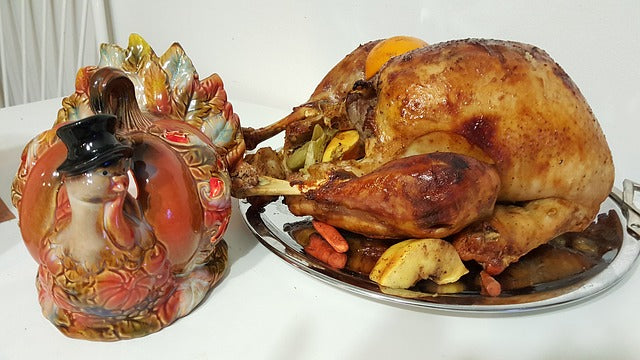 The day after Thanksgiving is the perfect time to make a comforting and healthy turkey soup. Using the left over steamed, roasted or sauteed vegetables, turkey and the turkey carcass puts a new spin on your leftovers. It blends the flavors of Thanksgiving while keeping you away from the stuffing & casseroles. It's a recipe that I will be including in my upcoming Press the Reset Button Cleanse.
Thanksgiving Turkey Soup Recipe

Ingredients:
1 ½ cups chicken stock (to make your own stock from the turkey see below) ½ large onion, diced 1 medium carrot, diced 1 celery stalk, diced 1 garlic clove, smashed 2 tsp olive oil 2 cups leftover Thanksgiving vegetables (carrots, Brussels sprouts, green beans, sweet potatoes – whatever you have that's not a casserole) 2 cups cooked leftover turkey, chopped 1 bay leaf 1 Tbs fresh sage or 2 Tbs fresh parsley (or both if you like) Pepper to taste
Directions:
In a large pot sauté the onion in olive oil over medium-low heat for 3 minutes. Add garlic and sauté another 2 minutes. Add the carrots and celery, sautéing for 5 more minutes. Add stock, bay leaf, turkey meat and bring to a simmer. Simmer for 15 minutes. Add chopped green vegetables, parsnips and carrots, bring back to a simmer. Simmer for 5 minutes and add sweet potatoes. Bring back to a simmer and simmer for 10 minutes, add sage, parsley, and pepper to taste. Shut heat off and let sit a few minutes before serving so flavors can blend.
Turkey Stock
Ingredients:
1 quart chicken stock 1 quart water 1 turkey carcass 1 bay leaf 1 rough chopped carrot 1 rough chopped celery stalk 1 rough chopped small turnip 1 onion cut in ½ 5 whole peppercorns
Directions:
Add all ingredients to a large stock pot and bring to a boil. Lower to a simmer and cook for 1 ½ hours. Remove carcass from pot with tongs and strain broth through a sieve into a large container. Remove any solids from broth and let cool. You can cool broth quickly by placing container over an ice bath. Refrigerate until ready to use. You can freeze the stock if you will not be using the it within a day or two.
About the Author: Janine McHale is a certified holistic health counselor and the owner of The Empowered Plate. She empowers busy women and runners to reach their goals of weight loss, better nutrition, stress management and more energy via nutrition and lifestyle tweaks. Need help with preparing quick healthy meals for yourself and/or your family? Send her an e-mail at janinemchale@empoweredplate.com!