Blog
The Differences Between the Precision Elite and Precision Pro Digital Food Thermometers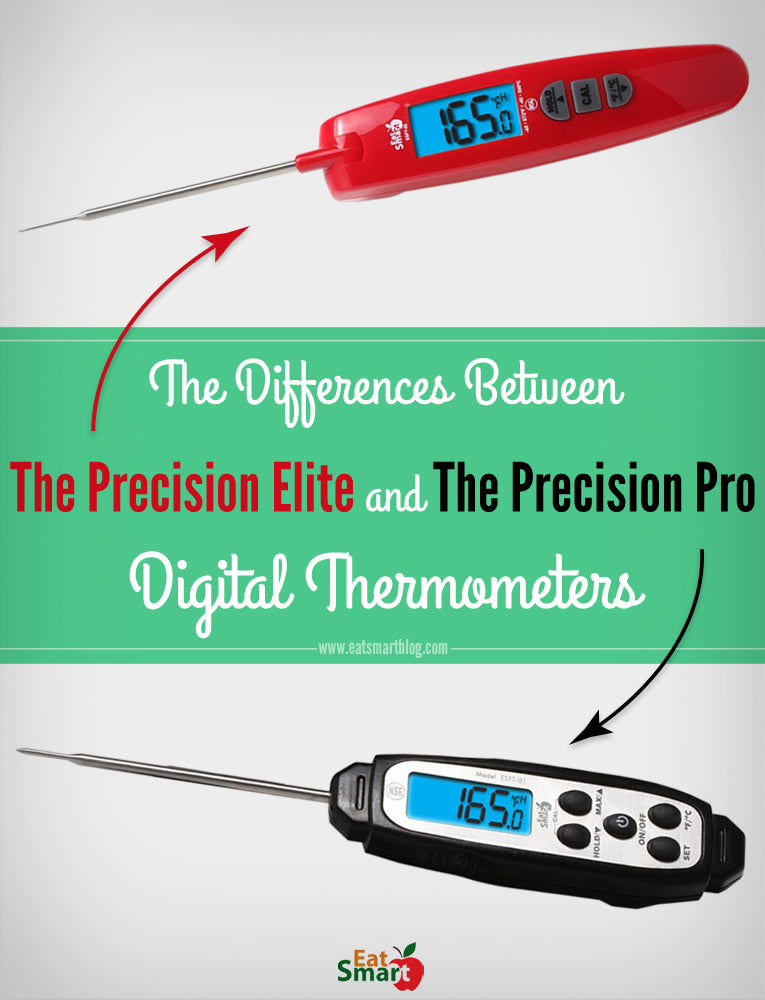 The most accurate way to know if your meat is cooked is to check the internal temperature with a food thermometer. A digital thermometer takes the guess work out of cooking meat and you get to enjoy a meal that has been cooked to perfection. No more biting into too rare beef roasts or dried out chicken! Cooking foods to proper temperature also cuts down on food borne illnesses. You cannot judge the internal temperature by looking at, smelling or even tasting food. We offer two options for you to monitor accurate internal food temperatures, our
Precision Elite Digital Thermocouple Thermometer
and our
Precision Pro Digital Food Thermometer
. Digital food thermometers can be used to measure temperatures of items besides meat such as ravioli, bread and baked goods. New Mom? It's perfect to use to test the temperate of warmed breastmilk or baby formula. You can also use a food thermometer to steep tea because certain teas actually taste better at different temperatures.
The similarities in our Digital Food Thermometers:
Easy to read, bright blue backlit screens
Innovative, splash proof designs
Readings in Celsius or Fahrenheit with a resolution of 1 degree Fahrenheit
1.5 mm step-down probes (that leave a minimal puncture hole so all of the juices stay in the meat)
Auto calibration
FDA and NSF certified
Here are the differences in our Digital Food Thermometers:
Our Precision Elite Thermocouple uses a proprietary thermocouple sensor that registers temperatures in 7 seconds or less. The Precision Pro reads temperatures in 10 seconds, but when you're hungry every second counts! There isn't much that the Elite can't be used for with its temperature range from -40F to 572F. The Pro is able to measure temperatures in the range of -40F – 450F. The Elite comes in a bold, red color and measures 9.75" long x 1.25" wide. The probe is a generous 4" long and folds down for easy and safe storage. It also comes with a nylon carrying case. The Pro is an always appropriate basic black and measures 7.25" long x 1.25" wide with a 3" long probe. It does not fold down but comes with an antimicrobial cover to inhibit bacteria growth. The cover has a handy list of the internal temperatures for different doneness of meat. The cover also snaps onto the top of thermometer to extend your reach, perfect if you are reaching into the oven to check your roast.
The Precision Elite runs on 2 AA batteries while the Precision Pro runs on one CR2032 battery. Batteries are included with both thermometers! Finally, the pricing! The
Precision Elite Thermocouple
can be purchased for $34.95 and the
Precision Pro Digital Thermometer
can be purchased for $14.95 on Amazon.
Using a food thermometer can make all the difference between a perfectly cooked meal and one that's over or under cooked.
What dishes do you rely on your food thermometer for? Tweet them to us @eatsmartscales.