Blog
11 Reasons Every Mom Needs A Digital Food Scale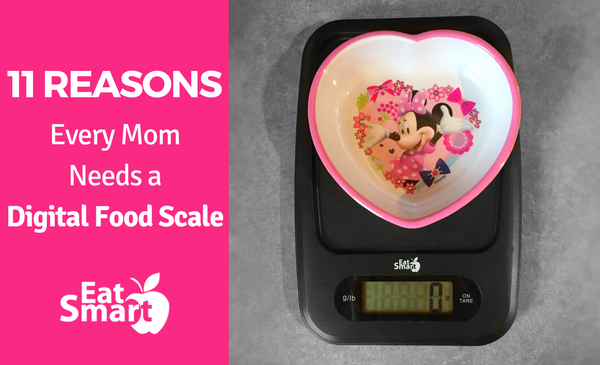 It's not easy being a mom. With a long list of daily responsibilities and limited time, moms are always looking for ways to simplify life. In particular, feeding her children, and herself, is a constant cycle of planning, shopping, cooking, cleaning dishes and when all else fails – ordering delivery! A digital food scale does more than just weigh flour and will make life in the kitchen much easier for mom. It's one of those gadgets she'll wonder how she ever lived without! From measuring serving sizes for herself and little ones, to baking superior tasting cupcakes, tracking nutrients, and saving trips to the post office, a digital kitchen scale is a must-have for moms everywhere.
Here are our top reasons every mom will benefit from owning a digital food scale:
#1 Bake superior tasting bake sale items.
Baking is a precise science. Weighing ingredients down to the nearest ounce or gram is far more reliable than eyeballing using measuring cups. Measuring by weight ensures that recipes come out perfect every time. For baked goods that taste delicious and impress everyone at the bake sale, always use a food scale.
PC: Cooking with Books
#2 Save money by making DIY snack packs.
Every mom appreciates money saving tips. Instead of buying the more expensive prepackaged snack packs, use a digital kitchen scale to portion out snacks for the week into baggies or small containers. Our
Precision Digital Kitchen Scale
makes it easy to measure portion sizes by weight without tediously counting every chip or nut.
#3 Make perfect hamburgers for the family.
Can you tell the difference between a quarter pound or half pound of beef? Neither can we. Make burgers the perfect size with a food scale as your guide.
#4 Measure accurate serving sizes.
The easiest way to eat appropriate serving sizes is to measure food on one of our
digital kitchen scales
. A food scale makes it so much easier to measure portions for infants, toddlers and young children. Rather than trying to eyeball 7 grams of infant snacks, this scale allows you to easily weigh portion sizes to the nearest gram.
#5 Track key nutrients.
Knowing that her portions are on point allows mom to accurately keep track of her calorie and carb intake. It makes managing diabetes or sticking to a diet plan much easier. Our
Digital Nutrition Scale – Professional Food and Nutrient Calculator
quickly and easily calculates calories, carbs, fiber, sodium, fats and other nutrients so she doesn't have to manually do it herself.
#6 Save a trip to the post office.
Moms don't have time for unnecessary errands! Our
Precision Elite Digital Kitchen Scale
weighs up to 15 pounds so she can weigh packages right on the scale and pay for postage online.
PC: The Penny Wise Mama
#7 Dirty fewer dishes.
All moms would be thrilled to have less dishes to clean! Weighing everything directly in a bowl on a food scale, eliminates the need for measuring cups and spoons. The tare button lets mom zero back with every new ingredient, so she can measure and weigh ingredients in one bowl. This is especially helpful with sticky ingredients like peanut butter, melted butter or honey.
#8 Weigh the newborn baby.
It is very important to monitor an infant's weight in the first few months of life. Place a large bowl or baking sheet on top of the scale, press the tare button and weigh the baby. Stay tuned for our new EatSmart Baby Check Scale launching in December 2017.
#9 Weigh ingredients that are hard to measure.
What do you do when the recipe calls for "3 ounces cheese, grated", when you only have a big chunk of cheese in the fridge? What about 10 ounces of brown rice? Well, now mom can quickly measure those impossible to eyeball ingredients on the food scale!
PC: Mom Knows Best
#10 Let the scale do the math.
Converting grams to pounds? Mom can save time figuring out conversions since most digital scales can easily switch measurement modes.
#11 Stop mindless eating.
Never eat snacks from a bag again! After the kids go to bed and it's finally time to relax, it's tempting to grab some comfort food. Instead of reaching for the bag of chips, pretzels, or gummy snacks, measure a proper portion size and eat your snack from a bowl.
All of our
EatSmart Products Digital Food Scales
have small footprints and can easily be stored in a cabinet to reduce countertop clutter. Moms will love the benefits of owning a digital kitchen scale. EatSmart kitchen scales range from $9.99 to $59.95 and make great holiday gifts for the moms in your life!