Blog
16 Ways to Use Your Thanksgiving Leftovers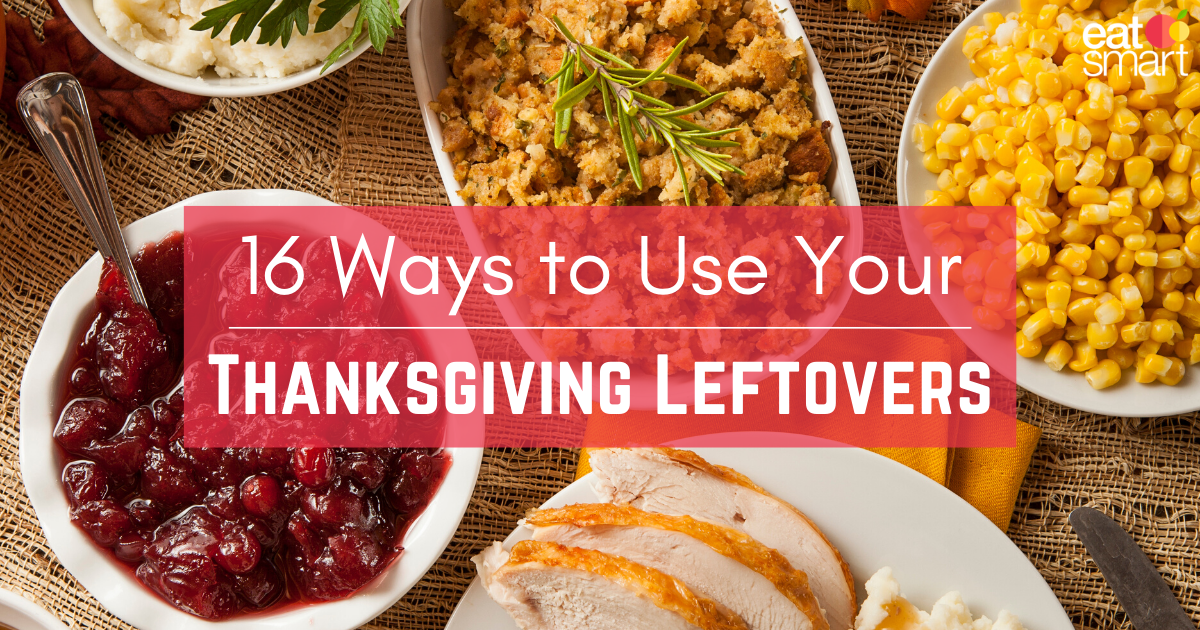 Turkey, potatoes, and stuffing oh my! It's delicious on Thanksgiving and is perfect as a plate of leftovers on Black Friday, but the same combination quickly becomes boring. Rather than tossing or freezing everything, try using your turkey day leftovers in new and creative ways.
Here are 16 different ways to reuse those Thanksgiving leftovers:
Turkey for breakfast
Make a hearty breakfast or brunch with turkey hash. In addition to turkey, roasted potatoes, onions and peppers can be combined in this dish.
Make stuffed peppers
Make a twist on stuffed peppers by using leftover turkey and stuffing for the filling. Top with your favorite cheese or with leftover cranberry sauce.
Use the extra pie crust
Make a turkey pot pie with an uncooked pie crust. Toss in leftover turkey, vegetables and extra gravy then bake it in the oven for an effortless meal.
Make enchiladas
Give your turkey a little kick by making turkey enchiladas. Toss it in your frying pan then add spices and some melted cheese to make a flavorful feast!
Go low carb with lettuce wraps
Tired of all the high carb meals? Use your favorite chicken lettuce wrap recipe and sub in turkey instead. It's a lighter way to enjoy your turkey leftovers.
Eat a fall salad
Chop up leftover turkey and enjoy it on a bed of your favorite salad greens. Add creamy goat cheese, crunchy pumpkin seeds, and chewy cranberries for texture and flavor.
Make a Shephard's Pie
Shepherd's Pie is an easy-peasy way to make the most of your Thanksgiving leftovers. This dish calls for turkey meat, vegetables, mashed potatoes, and gravy. It's comforting and it changes the taste of the same old leftovers.
Enjoy a pot of chili
Turkey chili with sweet potatoes and black beans is a no fuss and satisfying dish. Throw the ingredients into one pot or your slow cooker for a flavor packed meal.
Make a glaze
Leftover cranberry sauce makes a great glaze for many meats. Mix it with a little orange juice and brown sugar to use on turkey, chicken, baked ham, or pork. A little ginger or cinnamon can help spice things up.
Pump up plain yogurt
Stir in a tablespoon or two of cranberry sauce to plain yogurt for a seasonal twist on your go-to favorite yogurt.
Make muffins
Whether you're having a lazy morning after the holiday or plan on shopping the sales, cranberry sauce muffins are a perfect way to start your day.
Enjoy some waffles
Leftover mashed sweet potatoes add a sweet boost of nutrition to your waffles. Add a little cinnamon and nutmeg and top with toasted pecans to really enjoy the flavors of fall.
Make quesadillas
Spread leftover sweet potatoes over a tortilla, top with black beans, cumin, cilantro, coriander, and Monterey Jack cheese. These hearty quesadillas can be used as a meal or cut up and enjoyed as an appetizer.
DIY salad dressing
Mix leftover cranberry sauce with balsamic vinegar, olive oil, a little ground ginger, and a pinch of salt for a DIY salad dressing.
Breakfast for dinner
Use leftover turkey and vegetables in a frittata. There are even some recipes that use sweet potatoes or stuffing as well!
Turn dinner rolls into dessert
Bread pudding can be made from leftover dinner rolls. Cube the rolls in place of bread for a decadent dessert.
---
Always remember, when cooking turkey for Thanksgiving, it needs to reach an internal temperature of 165° to prevent any food borne illness. We recommend using your
Elite Thermocouple Digital Food Thermometer
to ensure all your holiday food has been cooked the proper temperature. The Elite Thermocouple will give you an accurate temperature reading in 7 seconds or less. The 4″ probe is a mere 1.5mm so juices stay inside meats keeping them moist and flavorful.
Do you have a favorite way to use your Thanksgiving leftovers? Tweet it to us at
@EatSmartScales
. You may also enjoy reading
Easy and Healthy Fall Casserole Recipes
.