Blog
7 Tips for Eating Healthy While Traveling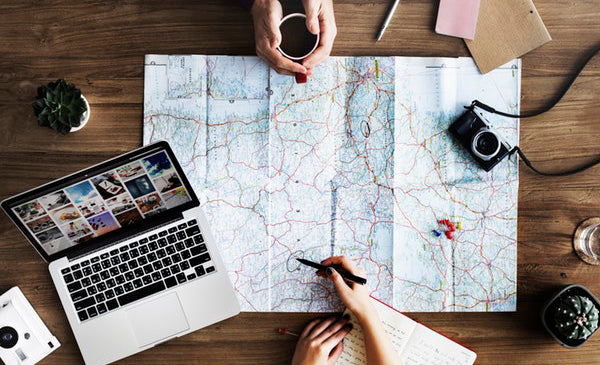 Guest post by Abby Phon, certified Holistic Health Coach at
feedyourmindbodyspirit.com
. I LOVE to travel and do it as often as I can. I also love to feel and look good too. I don't think traveling or having a different schedule should deter you from feeling and looking your best. If you feel great, you'll have an even more enjoyable trip! Here are some healthy helpful tips:
1. Bring HEALTHY snacks!
As a child (who am I kidding, she still does it!), my mother would always bring healthy snacks for us kids – whether it was on the way to a softball practice or a weekend road trip. Fruits, cut up veggies and nuts are great options. You can keep apple slices from oxidizing with a squeeze of lemon juice, and use the hotel mini-bar as a personal snack fridge for those baby carrots and slices of cucs! You can also make your own trail mix using dried fruit and nuts. For longer trips, I recommend Larabars (made of
whole foods
and natural ingredients) as a healthier alternative to fat and sugar-laden protein and cereal bars. If you know you'll be tempted by seeing others on the airplane eat the potato chips they pass out (or other junk food) bring your own baggy of air popped popcorn.
2. Add veggies!
When ordering out, at every lunch and dinner, have vegetables. Whether that means having a salad with grilled chicken or fish for lunch, or starting with a salad or getting a side of sautéed spinach with dinner…make sure you have veggies at least during 2 out of your 3 meals. The fiber in veggies keeps you feeling full longer, and eating it first will take space away from the (usually) less-healthy entree. Since more and more pick-your-topping salad bars (like Chop't and Cosi) are popping up across the U.S, this makes eating healthy while traveling easier. In foreign countries, check out supermarkets for salad options. In Africa I stopped at the grocery store closest to the airport and made my own salad for the long flight home. If your dinners are rich and not the healthiest, a good salad for lunch will help keep things in check.
3. Water.
My secret weapon. Ok, it's not a secret. Everyone knows I drink like a fish! (I am a Pisces after all!). Drink. And then drink some more. Keeps you hydrated, energetic and prevents unnecessary hunger.
4. Pack your plane food.
Whenever I fly, I always bring my own meal on the plane. And by meal I mean a big salad or veggies and a whole grain that I make or purchase before I get to the airport (it's hard to tell what options the airport will have). Something healthy and chock full of vitamins, minerals and enzymes to keep me feeling good, satiated and healthy!
5. Protein & green powders.
Depending where you are, fresh veggies and fruit may not be an option. This is a good alternative. I just toss my re-usable shake bottle in my carry on, with a few packets of both protein & green powders (I like variety!) and I have an instant healthy drink, snack or meal anytime – just add water.
6. Share dessert.
This really depends where you are traveling. For example, if you are traveling around the U.S., not only can you share dessert with your significant other or best friend, but you can often invite the family of 5 next to you to join in as well. In foreign countries the portions seem to be much smaller, but sharing still lets you treat yourself while on vacation without overdoing it.
7. Eat local.
Find out from your concierge, tour guide or taxi driver what the region is good at. Is the area known for its farming or pastures? Is it a citrus or fruit heaven? If you can, eat what the locals eat. Hopefully they know what is locally grown and in-season! If it's local and fresh, not only will it taste amazing it will give you a more authentic experience. Obviously some places require more attention than others (different bacteria and amoebas in the water, for example) but do you really want to have Italian in Mexico City or a burrito in Tuscany? But the most important thing to keep in mind is enjoy it! Don't just have a fast-food burger because it's "safe." When you are satisfied with your food, you won't eat unnecessarily and snack. You'll be a satiated and a happy traveler.
What are your tips for eating healthy while traveling?
About the Author: Abby Phon is a Certified Holistic Health Coach. She received her training at The Institute for Integrative Nutrition in New York City. She is certified by the American Association of Drugless Practitioners. She is also a certified Shiatsu practitioner, a licensed massage therapist, an AFAA nationally certified group fitness instructor, an IntenSati Leader and a certified Oneness Blessing (Deeksha) Giver. You can find more about Abby on her website, Facebook and Twitter.