Blog
7 Tips for Successful Holiday Baking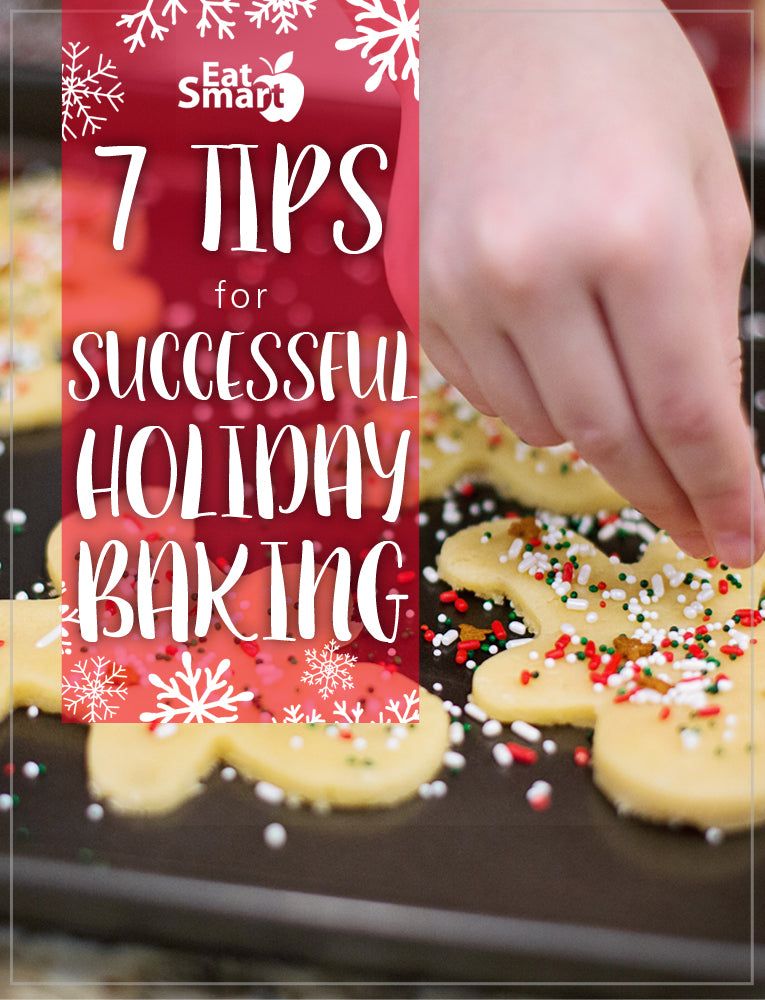 Happy Holidays! This is
the
time that many of us are in the kitchen, baking all sorts of sweets and family favorites. Organization is paramount to successful holiday baking and our list will help you navigate through it without any added holiday stress.
7 Tips for Successful Holiday Baking:
Brainstorm
Do you have family recipes that you break out only once a year? Or do you want to create an extravagant spread of sweets that are Instagram worthy? Check out Pinterest for fun new ideas. Either way, make a list of your must makes, and maybe a few new recipes you'd like to try. Not much of a baker? Try a no-bake recipe!
Organization
Print out all of your recipes and write down the ingredients you will need. Check your pantry.
Replace your baking powder and baking soda if you can't remember when you bought them last. It will make a difference in the rise of your baked goods. Do you need parchment paper or another can of baking spray? Pantry staples: flour, white/brown sugar, cocoa, chocolate, baking powder, baking soda, vanilla extract, food coloring, eggs, butter, etc.
Storage Containers
Are you gifting trays of cookies to friends and family and don't want to have to ask for your dishware back? You can buy pretty platters from the dollar store, reusable plastic sandwich containers or disposable pie tins from the grocery store. Many grocery store bakeries will even sell you cake containers for a few dollars so you can transport a cake easily.
Ingredients
Most recipes that use flour mean all-purpose flour, unless otherwise specified.
Use unsalted butter. Use European style butter for flakier pastry crusts.
Use large eggs.
High quality chocolate will give your baked goods rich chocolate flavor.
Read Your Recipe
Read the recipe from top to bottom, ensure you have all ingredients, pan sizes and equipment on hand. Do not change from the recipe specs unless you've baked that particular recipe before. Baking is an exact science, so changing ingredients can have undesirable effects.
Baking Time
Pre-heat your oven.
Have all ingredients (eggs, butter, etc.) at room temperature unless otherwise noted in the recipe (like if you're making pie crust, the butter and water need to be cold). Take them out about an hour before.
Liquid ingredients use a wet measuring cup, dry ingredients use dry measuring cups. Scoop until your dry ingredient is overflowing, then drag the back of a butter knife across the top to push off the excess. An easier way to accurately measure ingredients is with a digital kitchen scale like our EatSmart Precision Elite Digital Kitchen Scale. Many recipe sites now have volume conversion, and you'll get fantastic results with every batch.
Think ahead! Most cookie doughs and pie crusts freeze well, so make your dough today and bake when you have time.
Get the Kids Involved
Do you remember making Christmas cookies as a kid? Well, kids love to help in the kitchen. Cookie cutters and adding sprinkles and icing are a great way to get help decorating your baked goods and create sweet family memories.
Be sure to turn up the Holiday music and have fun! Did we miss anything? Please share your baking prep secrets with us on Twitter, @eatsmartscales.