Blog
Creamy Avocado Zoodles with Chipotle Lime Shrimp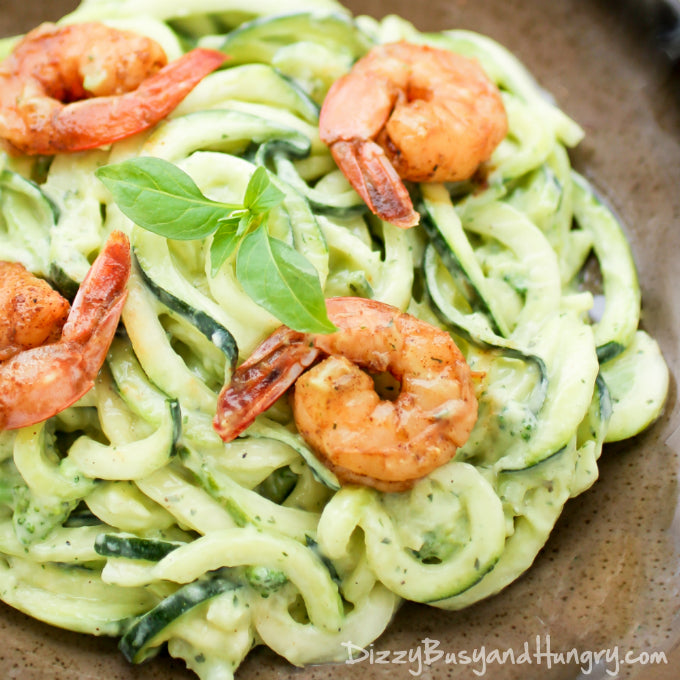 If you haven't tried zoodles (zucchini noodles) yet, you are missing out on something great. Check out this recipe which combines zoodles and chipotle shrimp with a smooth, creamy avocado sauce. This recipe will have you hopping on the zoodle bandwagon before the last shrimp leaves your plate. Enjoy! Ingredients:
For the zoodles:
2 avocados, peeled
½ cup fat free Greek yogurt
4 tablespoons lime juice
1 teaspoon minced garlic
½ teaspoon salt
½ teaspoon pepper
small handful basil leaves (I used about 25 leaves)
3 medium zucchinis
2 cups broccoli florets (optional)
For the shrimp:
3 teaspoons chipotle powder
¼ teaspoon salt
⅛ teaspoon pepper
1 tablespoon lime juice
16 ounces medium shrimp, raw
Click here for cooking instructions.
About the author: Kristin is a really busy wife, mom of two teenage boys and 3 cats, and employee in the corporate world. Her blog, Dizzy Busy and Hungry, focuses on quick and easy recipes perfect for feeding her hungry family on a super-tight schedule!