Blog
Digital Food Thermometers 101 – FAQs, Safety + Calibration Tips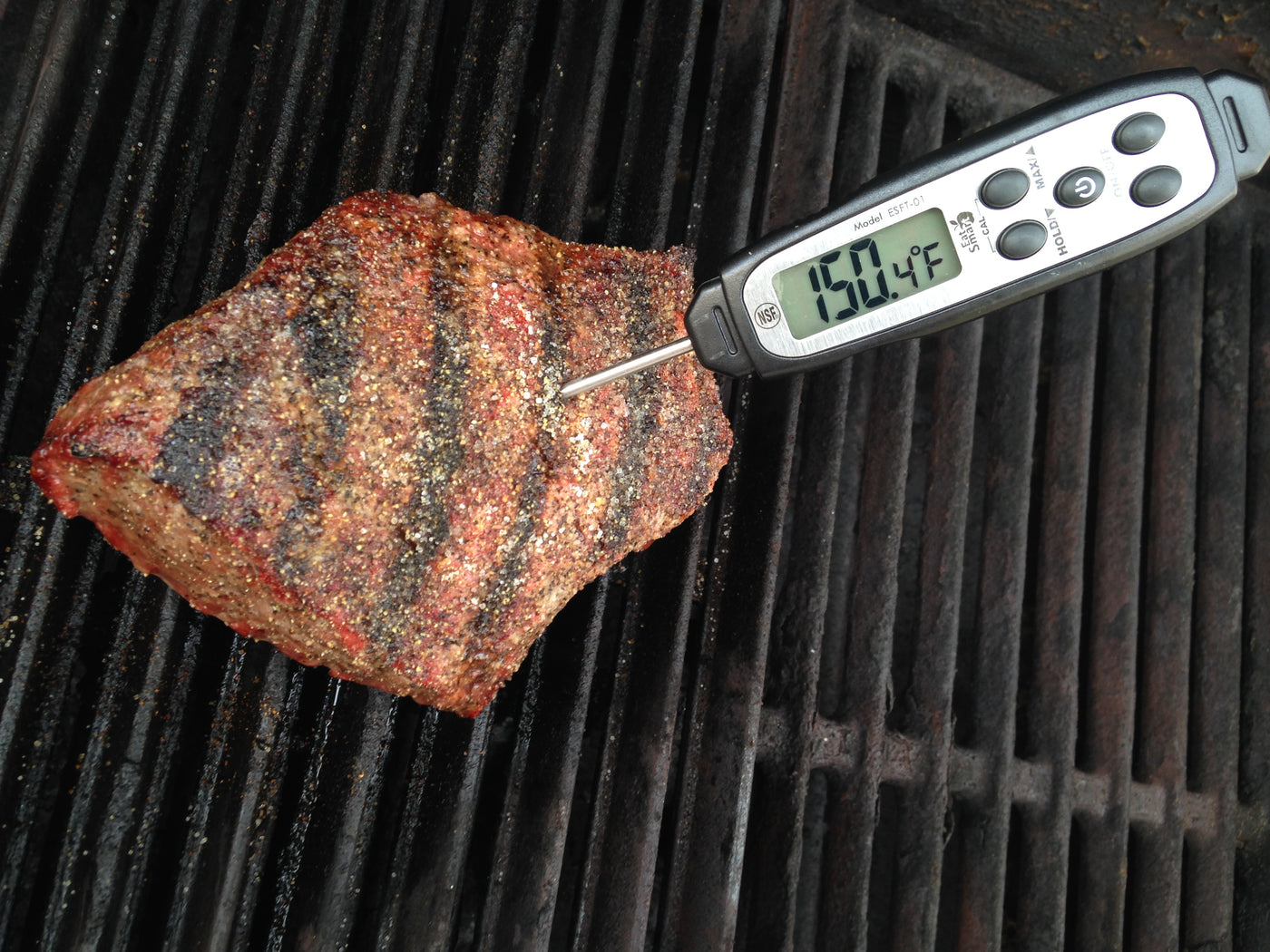 Are you sure your meat is fully cooked? If you want to guarantee your meal is prepared to perfection, you need to use a food thermometer. In addition to ensuring your meat reaches a safe minimum temperature, you can prepare meats rare, medium and well-done with confidence. The exterior color of meat is not a true indication that your meat has reached a safe internal temperature. When you use your thermometer correctly, you protect your family from food borne bacteria and illness. We've compiled FAQs, safety tips and calibration instructions to help you get the most from your instant read thermometer, such as our
Precision Pro Digital Food Thermometer
or our
Precision Elite Thermocouple Food Thermometer
.
Top frequently asked questions (FAQs):
When should I use my digital food thermometer?
Instant-read digital food thermometers give readings quickly. Use the thermometer toward the end of the minimum cooking time and allow it to remain in the meat for 3-5 seconds. The quickness of the reading means less time for the oven door to be open, keeping oven heat stable.
What's the best way to get an accurate reading?
You can get the most accurate temperature by sticking the thermometer into the center of the thickest part of the meat or casserole. Also, make sure it's not touching any bone or gristle. For whole chickens and turkeys, the thickest part is where the thigh meets the rest of the body. For thin pieces of meat like hamburgers, stick the probe sideways into the meat.
How do I clean my digital food thermometer?
To ensure their longevity, properly clean them after each use by washing in warm, soapy water and air drying. For very sticky jobs, such as making candy, stick the probe in boiling water to remove any residue.
How many models of food thermometers does EatSmart Products sell?
We offer two options for you to monitor accurate internal food temperatures, our
Precision Elite Digital Thermocouple Thermometer
and our
Precision Pro Digital Food Thermometer.
Both models feature easy to read, bright blue backlit screens, splash proof designs, readings in Celsius or Fahrenheit with a resolution of 1 degree Fahrenheit and 1.5 mm step-down probes. There are a handful of differences in the food thermometers, which are broken down in this
blog post.
---
5 safety tips when using your digital food thermometer:
Do not leave your EatSmart food thermometer in your food as it is cooking. Quick read thermometers are not designed withstand the heat of the oven for long periods of time.
When you take a reading and the meat or casserole is not fully cooked, wash the probe before reinserting it into the meat again. If your food has any bacteria, washing the probe will prevent you from putting any of it back into the dish.
Do multiple checks when cooking more than one piece of meat on the grill or in a microwave. Such heat sources can be uneven and not all of your foods may be cooked to the proper temperature.
Be sure to fully insert the probe to get an accurate reading. Both of our food thermometers have a step down probe that shows how far to insert the thermometer into the meat.
Do not submerge your digital thermometer into water. Our instant read digital food thermometers are water resistant but could become damaged when fully submerged in water.

---
How to calibrate your digital food thermometer:
EatSmart food thermometers are pre-calibrated, but if the temperature appears off, there are three simple way to check the accuracy your thermometer readings.
As a first step, we suggest changing the batteries, as low battery life may cause a temperature discrepancy.
Try the freezing point method. Fill a glass with crushed ice, add cold clean water until the glass is full and stir. Wait for about three minutes before inserting the thermometer into the ice-filled water. Insert the probe, wait a few seconds, then check that the thermometer's display reads 32 degrees F.
The boiling point method uses heat to determine if your thermometer is accurate. Bring water to a boil in a saucepan, then wait a few seconds to insert the thermometer. If everything is working properly, the display should register at 212 degrees F.
We recommend testing your food thermometer every six months, so that its ready to use whenever you need it. By following these safety and calibration tips, you can keep your EatSmart food thermometer in top condition and ensure that it provides accurate readings. To learn more about our Precision Elite Thermocouple and our Precision Pro Thermometer, including some unusual uses for a food thermometer,
read our blog post.
PIN IT: