Blog
Father's Day Gift Ideas Under $60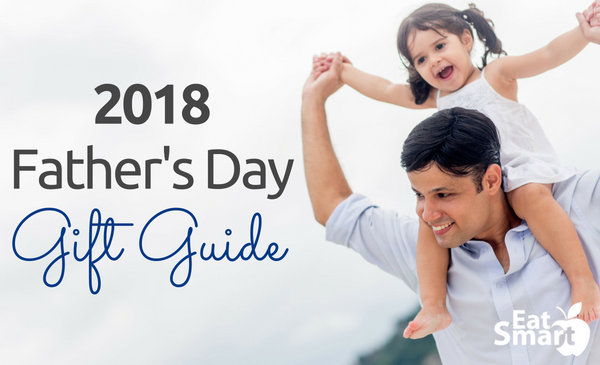 Dad only needs so many ties and coffee mugs. This Father's Day, why not get him something that plays to his interests and makes day to day life easier? Whether he is a frequent traveler, foodie, or appreciates a craft cocktail, we have gift ideas to help keep him healthier and happier. As a bonus, all of these items are under $60.
2018 Father's Day Gift Guide:
TravelWise 5-Piece Packing Cube Set | $24.95
Whether Dad is a road warrior or the occasional traveler, our TravelWise Packing Cube Set makes packing and unpacking a snap. Upon arrival, he can simply take out the cubes as needed, then pop them back in his suitcase when leaving. The cubes also allow him to compartmentalize like items to keep them organized and prevent the wrinkling of clothing during transit.
---
Precision 550 Extra Wide Digital Scale | $39.95
For the Dad who is serious about maintaining his health, our Precision 550 Digital Scale has an extra wide platform that comfortably accommodates bigger frames and large feet. The stainless steel platform gives it a sleek, modern look, and the 4 high precision sensors provide accurate weight readings.
---
Precision Voyager Digital Luggage Scale | $14.95
Dad no longer has to waste money on overweight baggage fees thanks to our Voyager Digital Luggage Scale. He simply attaches the scale to the handle of his suitcase, lifts up, and the scale will beep when the luggage weight has been determined. At only 5.5 ounces, it's lightweight design is easy to toss in his suitcase for the return trip.
---
Digital Nutrition Scale | $59.95
When Dad is consciously watching his diet, our Digital Nutrition Scale is an essential tool. It analyzes the nutritional content of any food by serving size, including calories, carbohydrates, saturated fat, total fat, fiber, sodium, potassium, magnesium, vitamin K, cholesterol, calcium, and protein. The scale's database stores the nutritional values for approximately 1,000 foods and can remember up to 99 entries for daily or weekly tracking.
---
Precision Pro Digital Food Thermometer | $19.95
The foodie Dad will love this handy cooking tool. The Precision Pro Digital Food Thermometer ensures Dad's steaks, burgers, and chicken are cooked to juicy perfection thanks to the small 1.5 mm probe. The anti-microbial cover has a handy temperature guide for quick cooking reference.
---
Taylor Precision Products 849GW Durable Grill Smoker Box | $24.99
Grillin' Dads will love Taylor's Durable Grill Smoker Box. Dad can create unique smoking flavors with innovative mix and match accessories. The durable stainless steel box has adjustable slide vents to control flavor intensity. The silicone ice mold allows Dad to keep presoaked wood chips on hand by freezing them.
---
Mako Bar Essentials Set | $40.00
The Dad who loves to entertain will enjoy Mako's Bar Essentials Set. With these handy tools, Dad can skip premade mixes and prepare his favorite cocktails from scratch. Pair this with some new healthier cocktail recipes and he will be creating "lightened-up" versions of classic beverages in no time!
---
Rabbit Sphere Clear Ice Tray | $30.00
Dads who love a cool, refreshing beverage will enjoy the Rabbit Sphere Clear Ice Tray. Thanks to its design, the ice contains very few bubbles or impurities making for denser ice. As a result, it will melt slower than regular ice, keeping drinks colder for longer without diluting the flavors Dad loves.
---
Which of these gifts do you want for your dad? Tweet it to us at @EatSmartScales.