Blog
Grilled Shrimp Tacos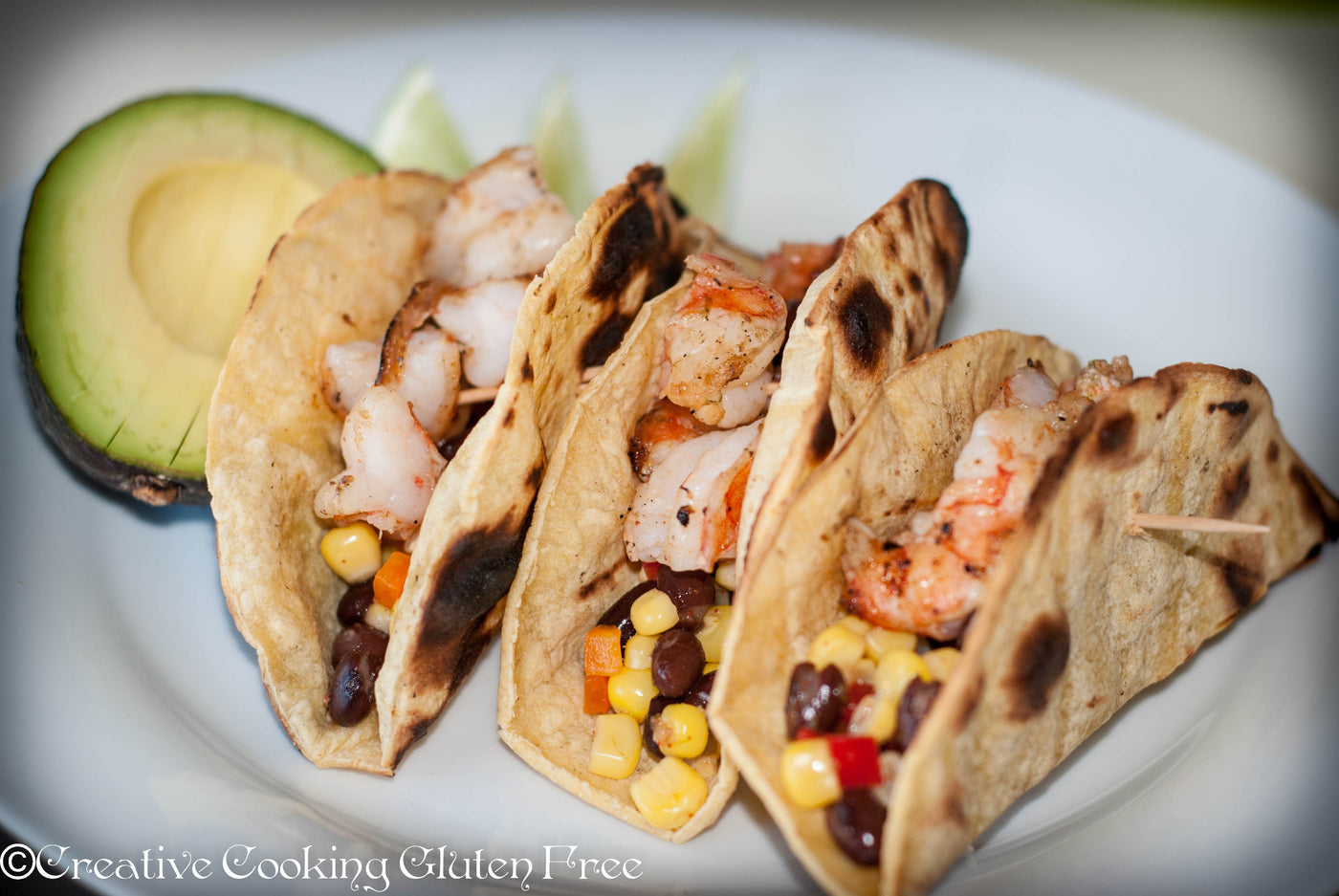 Salsa
Ingredients
Lime Zest 1 lime
Lime Juice, Fresh 2 limes
Cayenne Pepper ¼ teaspoon
Salt, Kosher 1/8 – 1/4 teaspoon
Black Pepper, freshly ground 1/8 teaspoon
Corn, rinsed & drained 1 can (14oz)
Black beans, no salt added rinsed, & drained 1 can (15.5 oz)
Red Bell Pepper, small dice ¼ cup
Orange Bell Pepper, small dice ¼ cup
Method of Preparation
Gather all necessary equipment
In a medium bowl zest one lime. Zest the second lime used later for juicing and set aside zest for the shrimp marinade.
Juice the two limes into the bowl
Add cayenne pepper, salt, and black pepper, mix until well combined. Set aside
Open cans of corn and black beans. Drain and rinse corn first, and then add to a medium bowl.
Drain and rinse the black beans and add to the bowl with the corn and lime juice mixture.
Dice bell peppers and add to the corn, black beans, and lime juice mixture.
Mix well, cover and store in the refrigerator for 1 hour.
Mix well before serving.
Serve with grilled shrimp tacos and/or corn tortilla chips.
Grilled Shrimp Tacos – makes six tacos
Ingredients
Olive Oil 2 tablespoons
Cayenne Pepper ½ teaspoon
Lime Zest 1 lime
Salt, Kosher 1/8 teaspoon
Jumbo Shrimp, peeled, deveined, cleaned 10 each
Corn Tortilla, soft 6 each
Avocado, halved and sliced 1 each
Method of Preparation
Gather all necessary equipment
In a small bowl combine first four ingredients and mix well.
Add shrimp and toss to evenly coat all shrimp.
Cover and marinade in refrigerator for 30 minutes.
Heat grill to medium high
Either skewers your shrimp or use a grill basket to cook shrimp.
Cook for 3-4 minutes per side. Shrimp should be opaque and cooked throughout.
Remove shrimp from grill and cut up into large chunks or leave whole.
On the cooler part of the grill add the soft corn tortilla shells.
Grill until you see grill marks – about 3-4 minutes per side (this all depends on how hot your grill is, and how crispy you want them…at this stage they are still quite pliable).
To assemble your tacos add 2-3 tablespoons of corn and black bean salsa on each grilled corn tortilla shell.
Top with equal portions of diced or whole grilled shrimp and slices of avocado.
Enjoy the extra salsa with some gluten-free corn tortilla chips.
About the Author: Jenny Manseau is a Chef, Culinary Nutrition student and author of the blog Creative Cooking Gluten Free. Jenny created her website after being diagnosed in 2008 with Celiac Disease and takes many "regular" every day recipes and alters them to the gluten-free diet.