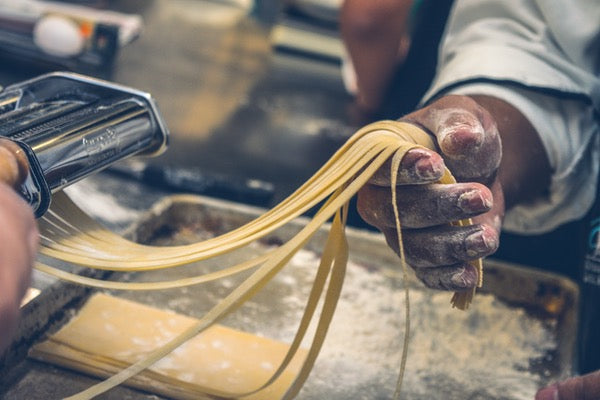 Ingredients: 5 cups flour 2 tablespoons olive oil 1-1/2 cups water 1 teaspoon salt 1 egg
Instructions:
Put all ingredients into your food processor with the dough blade and process until it forms a ball. Remove and place on a lightly floured surface. Cut into pieces and flatten. If the dough starts to stick, dab the pasta in some flour. Then you fit the dough through your pasta machine using the thick setting (number 1). Do this for all the pieces you cut. After you run the dough through the number 1 setting, you adjust your pasta machine to the thickness of your choice. My preference is (number 4), which reminds me of a linguine noodle. Keep flouring if you need to. Run all the flattened pieces through the thinner setting, then you're ready to remove your crank and fasten on the noodle side. Crank all the pieces and set aside until you're ready to start boiling up the pasta. All you need is a wonderful sauce, and presto dinner is ready!
Be sure to check out a delicious pasta recipe that Mary uses after she has made her homemade pasta,
Summer Harvest Vegetarian Pasta
. YUM!
About the Author
: Being health conscious, Mary B. likes to share helpful tips and her own recipes to promote healthier eating on her
Nuts 4 Stuff Blog
as well as beauty, reviews, giveaways, thrifty tips, household solutions, and basically everything she's nuts about to share with her readers. Follow her on
Twitter
,
Facebook
, and
Bloglovin
'.