Blog
Homemade Strawberry Cereal Bars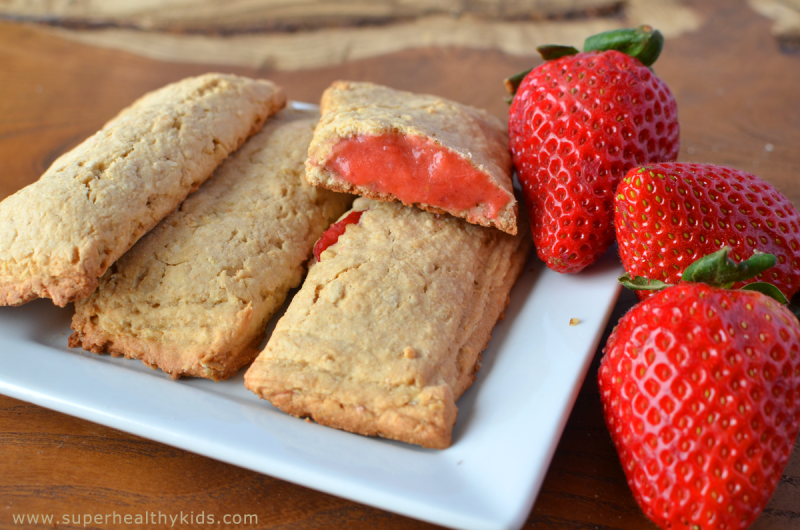 Guest post from
Super Healthy Kids
. First I made the dough (full recipe below). Then, we rinsed, de-stemmed, and chopped up the strawberries in a food processor until smooth. I've also done this where I break up the strawberries over the stovetop first, over some low heat, and then blend it up. It does get a little smoother, but you may want to leave it chunky. Your choice. Then, we rolled out the dough, and spread our strawberries down the side of a square piece of dough, and folded over. We pinched the sides to keep the filling in, and then baked it.
Crust Ingredients:
1/2 cup coconut oil
1/2 cup agave
1/2 teaspoon vanilla
1 egg
2 cups whole wheat pastry flour
1 cup oats
1/2 teaspoon salt
1 teaspoon baking powder
Instructions:
Cream the coconut, agave, vanilla and egg, with an electric mixer. In a separate bowl, combine flour, oats, salt, and baking powder. Add dry ingredients to your creamed ingredients, a little at a time, with an electric mixer, until it is well incorporated. Wrap dough in plastic wrap, and chill for 1 hour. Once chilled, roll out on wax paper, using flour where necessary so it doesn't stick to your rolling pin, or the counter. Cut and wash 1 cup of strawberries. Put them in a small saucepan with 1 tablespoon of water. Using the edge of a wooden spoon, slowly break the strawberries up until the start to break apart. After about 5 minutes, pour strawberries into a food processor and blend until smooth. If you still would like it a little thicker, at this point, return the pureed strawberries to the saucepan, and add 1/2 tablespoon of corn starch with a few drops of water *enough to turn the corn starch liquid. Add to the strawberries and stir over low heat until it begins to thicken. Preheat oven to 350. Roll out dough, and using a pizza wheel, cut into 3X3 inch squares. Pour strawberry sauce on one side, and fold over and pinch to keep the filling in. Transfer to a cookie sheet and bake at 350 for 15 minutes. To keep these soft, store in a zip top bag or air proof container. For more pictures and nutritional information, please
click here
.
About the Authors: Amy and Natalie, nutrition educators, love to share ideas on helping kids eat more fruits and vegetables! Check out their blog for new healthy recipes each week, Super Healthy Kids.