Return
September 06, 2017
Blog
How to Make Banana Walnut Chia Muffins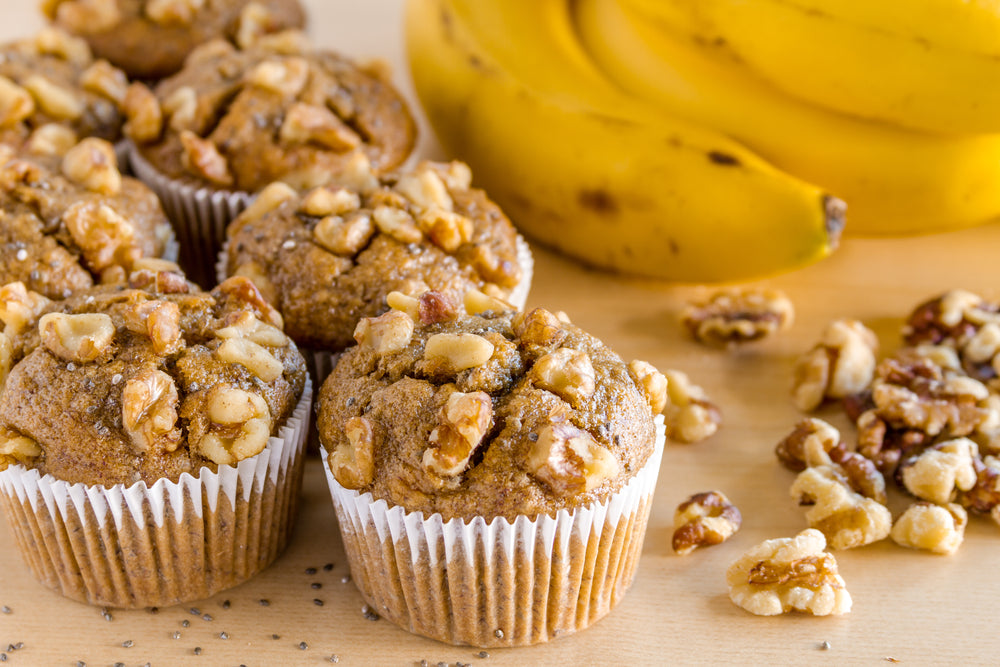 Guest post by Susan Conley from

Cook The Stone

.
Do you love muffins? Well, give me a high five! I have always liked muffins ever since I was a 6 or 7 years old. It gives me fond memories because my grandmother used to bake delicious muffins for us every Saturday afternoons. There has been a lot of debate on whether muffins are actually nutritious. I know some people even pick
donuts over muffins
if they were asked to choose a healthy snack. But they may have been talking about muffins sold in restaurants and bakeshops. Perhaps they've yet to come across a muffin like the one I am to share with you - Banana Walnut Chia Muffins. This is a delicious and healthy breakfast or snack that you can serve for your family. I am sure that even the young ones won't be saying no to this food.
Nutritional Value of Banana Walnut Chia Muffins
This muffin recipe packs three very nutritious foods as key ingredients—
bananas, walnut and Chia seeds
. Perhaps bananas are best known for being rich in potassium. In fact, one banana alone contains 400 milligrams of the mineral that helps in maintaining normal blood pressure. I suggest you eat more bananas if you want to lower your risks of high blood pressure. Aside from lowering risks of heart-related ailments, bananas can also improve athletic performance and promote regular bowel movement. Walnuts, meanwhile, are also a nutrition powerhouse. This ingredient
used in baklava
is good for the heart because of their high levels of omega-3 fatty acids. Walnuts are also rich in folic acid that can prevent birth defects; vitamin B6 that helps in strengthening the immune system and manganese that can improve your body's metabolism. Chia seeds are the edible seed of the desert plant Salvia hispanica. The name "Chia" means strength. In fact, it is said that the Mayans and Aztecs in ancient Mexico used the black and white seeds to boost their energies. Aside from being an effective energy booster, Chia seeds can speed up the repair of wrinkles and prevent early aging. It can also lower risks of heart disease because of its high levels of omega-3 fatty acids. In fact, Chia has more omega-3 fatty acids than salmon. Chia seeds have a mild, nutty flavor. Thus it is very easy to incorporate them into foods
like cereals.
As you can see, the banana walnut chia muffins recipe that I am to share with you is packed with nutrition. You really won't regret eating this delicious snack.
Banana Walnut Chia Muffins recipe
This recipe takes less than an hour to make.
Makes approximately 12 muffins.
Ingredients:
All purpose flour, two cups
Baking soda, one and a half teaspoons
Bananas, four overripe pieces
Brown sugar, one cup
Unsalted butter, ¾ cup
Eggs, two
Vanilla extract, one teaspoon
Walnuts, one-half cup, chopped
Water
Chia seeds, one tablespoon
You'll also need the following things:
Two muffin tins
Large bowl
Two small bowls
Electric mixer with wire whisk
Rubber spatula
Fork
Step by step guide:
Preheat the oven to a temperature of 375 degrees Fahrenheit. Then lightly butter a couple of muffin tins.
Combine the baking soda, flour, and salt in a large bowl. Set it aside.
Combine the Chia seeds with water in a small bowl to get a thick Chia seed gel. Set aside.
Get two bananas and mash them in a small bowl using a fork. Make sure that the bananas have some texture left.
Whip the other bananas and sugar using the electric mixer for 2-3 minutes. Put the melted butter, vanilla, and eggs. Beat well and scrape down the side of the bowl twice. Then mix in the butter, eggs, and vanilla until these ingredients are well incorporated.
Fold in the mashed bananas and walnuts with a rubber spatula. Place the batter into the two muffin tins but don't overfill them. Just fill the tins halfway. You can then get rid of air bubbles by giving the muffin tins a rap on the counter.
Bake the muffins until the toothpick you stick in the center comes out clean. It should take about 20 minutes. Let the muffins cool for a few minutes before you serve them at room temperature.
Conclusion
Who says that muffins are difficult to bake? As you have learned after reading this recipe, muffins are rather easy to prepare. Incorporating healthy ingredients like bananas, walnuts and Chia seeds can also make muffins a lot more nutritious than donuts and other sweet treats. So what are you waiting for? Gather the ingredients and try this recipe now! But before you start baking, can I ask for a small favor? Please share this article so that more people will learn how to bake delicious and nutritious muffins.
About the author: Hi friends, it's great that you're here. I'm Susan from Cook The Stone. I really enjoy staying in the kitchen to make tasty meals for my family. Hope my post shared today can help you live healthier. I will very appreciate if you can encourage me by leaving comments and advice below. Happy cooking!