Blog
Introducing the EatSmart Precision Choice Digital Bathroom Scale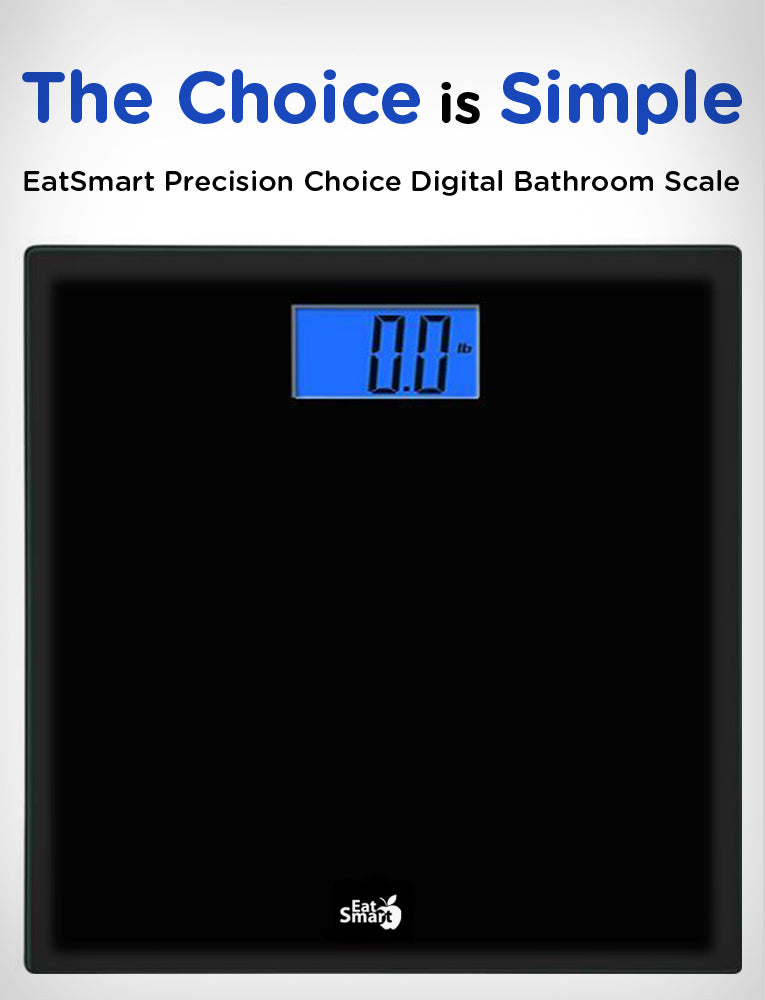 We are excited to share the brand new
EatSmart Precision Choice Digital Bathroom Scale
. This scale is ready to go whenever you are ready to weigh in - simply step on and get your weight within seconds. The slim, ergonomic design fits perfectly into any surroundings, and its tempered safety glass platform weighs up to 400 pounds to the nearest 0.2 lbs. With our "beep feature", the scale will beep once when a weight locks in, giving the user time to step off and easily view the display. The Precision Choice is our basic bathroom scale as there are no additional features or user profiles to set up.
Here's the front of the box:
Here's the back of the box:
What's in the box:
Inside the box, you will find the bathroom scale, an instruction manual, customer satisfaction guarantee and three AAA batteries (included - taped to the plastic packaging).
---
Battery compartment:
Just pop the three batteries into the back of the scale and you are ready to go.
---
Four EatSmart precision sensors:
Four EatSmart precision sensors in each foot of the scale ensure accurate measurements in 0.2 lb or 0.1 kg increments.
---
Three measurement modes:
You can easily switch between pounds, kilograms or stones by pushing the unit button to the right of the battery compartment.
---
Height of the scale:
The platform sits approximately one inch off of the ground. For context of the scale's size, here it is next to a quarter.
---
Beep feature:
https://www.instagram.com/p/BLJZPPjhGn6
---
LCD screen:
The scale's backlit LCD display is 3.2"x 1.5" and lights up in cool blue. The Precision Choice gives instant readings using EatSmart "Step-On" Technology and will automatically turn off to conserve battery power.
---
Sleek design:
This bathroom scale sports a black-backed, tempered glass platform and 11.8″x 11.8″ base. The scale itself weighs in at 4.5 lbs and looks great in any surroundings.
---
Features include:
As with all EatSmart scales, the Precision Choice includes our 100% satisfaction guarantee and two-year warranty.
Do you have any questions about our new Precision Choice Bathroom Scale? Please tweet them to us @eatsmartscales. We're here to help!