Blog
Q&A: Top Health and Fitness Tips from Personal Trainer and Exercise Physiologist, Alessandra Daniele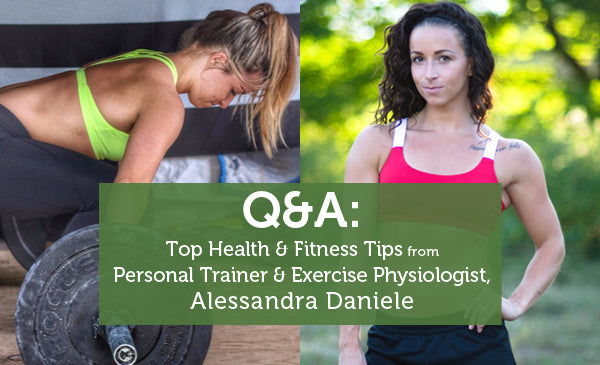 We recently sat down with Exercise Physiologist and Personal Trainer, Alessandra Daniele (
@FitGirlMoves
) to dive into some interesting facts about exercise, nutrition and the benefits of using an
EatSmart Precision Digital Kitchen Scale
.
Q: Alessandra, please tell us about yourself and your background.
A: Hey guys! I am a 26-year-old Exercise Physiologist, Personal Trainer and co-owner of
SD Evolution
(alongside my Fiancé) which is an online coaching community. I graduated from Central Connecticut State University with my Bachelor's in Exercise Science in 2014, but I've been surrounded by fitness my entire life thanks to my parents.
Q: We understand your mother is a fitness professional as well. When did you realize that this was something you were also passionate about?
A: My Mom has been a huge influence in my fitness journey, however I didn't always want to follow in her footsteps! It took me quite a while to realize that following her WAS exactly what I was meant to do. It wasn't until my sophomore year of college that I started teaching group fitness classes and found myself falling in love with becoming healthier in all aspects of my life. That led to declaring Exercise Science, becoming Fitness Manager of my college's Rec program and eventually moving to San Diego to pursue my dream.
Q: What do you feel is more important to weight loss and maintaining a healthy lifestyle, exercise or diet?
A: I think both are absolutely necessary in maintaining a healthy lifestyle as well as losing weight. Many people believe that you can out-exercise a bad diet, but the truth is that both need to be in line with your goals.
Q: You've been using our Precision Digital Kitchen Scale, what are some of the features that you appreciate?
A: I absolutely love the Precision Digital Kitchen Scale! I love that it's easy to clean (weighing food can be quite messy!), and the fact that you can switch between ounces and grams- both measurements I use!
Q: You recommend various eating plans for your clients, what are the benefits of using the Precision Digital Kitchen Scale to measure food portions?
A: Using the Precision Digital Kitchen Scale to measure food is a great way to teach our clients accurate portion sizes. Many people tend to over-estimate food portions even when using a tool like a measuring cup, so actually weighing out things like your meats, peanut butter or even ice cream is a great way to educate yourself.
Q: Would you recommend measuring food to someone who isn't looking to lose weight but to gain muscle mass or maintain their current weight?
A: Absolutely. If your goal is to gain muscle mass (or weight in general), you need to be consuming a surplus of calories. It's hard to know if you're eating enough without tracking your food intake and measuring your portion sizes.
Q: What do you think are some common misconceptions about diet and exercise?
A: I think a lot of people believe that you must go to the absolute extremes for both diet and exercise. When most people start a diet, they think they need to restrict entire food groups like carbohydrates in order to see results. The truth is, if you figure out what your body individually needs (by counting calories or macronutrients) you can make small adjustments and still see amazing results.
Q: Time is tight for so many people. What are some key exercises that you would recommend for someone who has only a limited time to work out?
A: Not having enough time is probably the one thing I hear the most from clients! If you're just starting out and trying to incorporate more exercise in your life, start with one or two sessions per week. They don't have to be long and full of intricate exercises. Start basic with what you can fit in, and progress from there!
Q: Can you share some tips for making fitness fun?
A: Fitness should always be fun! Here's what I suggest:
Choose a method of exercise that you ENJOY doing.

For instance, don't run if you hate every second of it. If you like to lift weights, lift weights, if you like to go for a bike ride, do that. There's no perfect training program out there, just a perfect one for you.

Find a fitness buddy!

When I started lifting with my Fiancé, he not only held me accountable, but we had so much fun during our sessions together.

Take it outdoors

. One of my favorite activities for cardio is to go hiking with my Dad at the local trails. You don't always have to be crushing it in the gym. Fitness can take place anywhere!
Q: Lastly, what does "eat smart, live smart" look like for you?
A: "Eat smart, live smart" means filling my day with about 85% nutrient-dense foods, yet still fitting in some treats that I enjoy here and there (like ice-cream!). Finding a balanced diet that you can actually adhere to is going to be the absolute key to your results. For me, that means eating a variety of healthy foods, and sometimes indulging in my favorites! Your body will thank you for choosing smart choices.
If you have any questions for Alessandra, you can find her on Twitter
@FitGirlMoves
or Instagram
@FitGirlMoves
or leave a comment below.