Return
September 27, 2013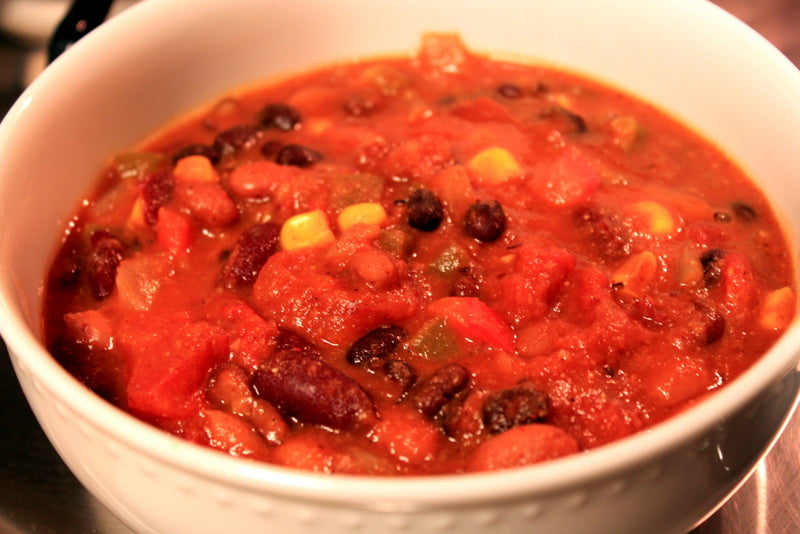 This recipe was contributed by Anjali Shah, author of The Picky Eater, a healthy food and lifestyle blog.
Ingredients
1 can Kidney beans, drained and rinsed
1 can Black beans, drained and rinsed
1 can Pinto beans, drained and rinsed
1 cup frozen corn
1 red bell pepper, diced
1 green bell pepper, diced
1 red onion, diced
1 28 oz can crushed tomatoes
1 cup vegetable broth
5 garlic cloves, minced
1 heaping tbsp chili powder
1 tsp cumin
1 tsp coriander
1 tsp Ghirardelli cocoa powder (unsweetened)
1/2 tsp garlic powder
1/4 tsp (or a bit less) cayenne pepper
A couple splashes of soy sauce
1/2 tsp salt
Black pepper and paprika to taste
Directions
Chop the garlic, onion, and bell peppers. Saute lightly over medium high heat in 1-2 tsp olive oil. Meanwhile, wash the beans until all of the canning liquid is gone.
Once the veggies have sauteed for about 5 minutes, add everything else into the pot (tomatoes, beans, spices, etc.). Bring to a boil. Reduce heat and simmer for 30 min or longer as needed.
Once the chili is done cooking, you can top it with anything you like: 1 Tbsp cheese, fat free sour cream or 0% greek yogurt, or tortilla chips. I served mine with a piece of cornbread (of course)!
Notes
Adapted from KathEats.com
About the Author:
Anjali Shah is a food writer, health coach, and owner of

The Picky Eater

, a healthy food and lifestyle blog. Anjali grew up a "whole wheat" girl, but married a "white bread" kind of guy. Hoping to prove that nutritious food could in fact be delicious and desirable, she taught herself how to cook and successfully transformed her husband's eating habits from a diet of frozen pizzas and Taco Bell to her healthy, yet flavorful recipes made with simple, wholesome ingredients. Through her blog,
The Picky Eater
Anjali shares her passion for tasty, healthy cooking.