Blog
10 Packing Tips for Spring Break Travelers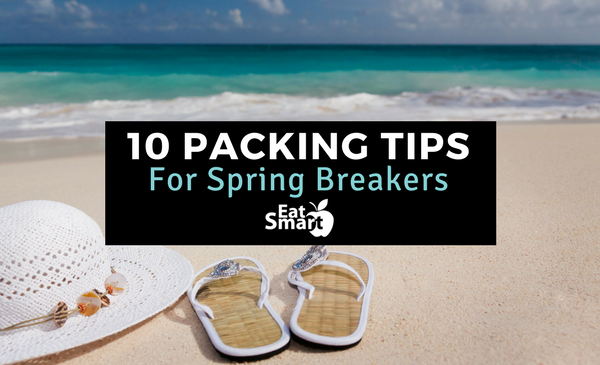 Are you taking a well-deserved vacation this spring? Well, we'd like to help get your trip off to a great start. To avoid airline hassles, unwanted fees and frustrated family members, you need to streamline your packing system. You can travel like a pro by strategically planning and organizing your necessary apparel and toiletries. Below are 10 tips that will lighten your load and have you breezing through airport security.
Packing Tips for Spring Break Travelers:
Make a list
Make a list of your travel essentials for the trip; include all items big and small. This ensures you won't forget medication, someone's favorite teddy bear, or your bathing suit.
Mix and match outfits
Choose clothes that can be mixed and matched rather than bringing specific outfits for every day. Keep shoes to a minimum as well – pack one pair of dressy shoes, a pair of flats or flip flops, and a pair of sneakers if you'll be working out or doing a lot of walking.
Pro Tip:
Laying everything out on your bed beforehand allows you to see if you have duplicates or can eliminate a few items.
Accessorize
Maximize your clothing options with accessories. Scarves can add pops of color, act as bathing suit cover-ups, and as a shawl in overly air conditioned rooms. Belts and jewelry can also help switch your look from day to evening.
Maximize packing space
Put socks and other small items into shoes, roll clothing, and use packing cubes. Our
TravelWise Packing Cube System
maximizes available luggage space and allows you to pack more efficiently. Available in
3-Piece Sets
or
5-Piece Sets
, clothes will stay folded and neat when packed in their own "small drawers". As a bonus, the mesh panel allows you to see exactly where your bathing suit and flip flops are, so you can hit the beach right away.
Picture credit: Mom Knows Best
Pick luggage wisely
Using a lighter weight suitcase can drastically cut down on the total weight of your bags. Consider switching to a bag on wheels that can spins 360° to make navigating the airport and hotels easier.
Pro Tip:
Traveling with kids? Assign them each their own color
packing cube
for the trip. This allows everyone to share suitcase space and eliminates arguing over which cube belongs to whom.
Picture credit: Enjoying the Course
Use travel sized toiletries
Between TSA limitations on liquids and space in your luggage, travel sized toiletries and beauty products are necessities. Keep everything leak proof by covering the openings with plastic wrap before putting the tops back on. Another option is to use the amenities your hotel provides or to swing by a drugstore at your destination.
Wear bulky items
Do you need your winter coat, boots, or a sweater? Save valuable luggage space and wear your bulkier items on the plane. This also helps you avoid reaching for those potentially germy airplane blankets when you get chilly.
Weigh your luggage
The
Voyager Luggage Scale
is a must-have tool to prevent unnecessary fees at the airport. The scale is easy to use, as it simply clips onto your suitcase and features a handle for easy lifting. When the weight has been determined, the scale will beep and your luggage weight will instantly appear on the large, backlit LCD screen. It's lightweight enough to pack for your return trip to ensure your souvenirs don't put you over the airline weight limits!
Compartmentalize electronics
Your small packing cube is the perfect place to keep electronics, chargers, and other loose accessories in one place. No more digging through your suitcase to charge your phone if you're delayed at the airport.
Pack a personal bag
Every family member should have a carry-on bag with a change of clothing, snacks as well as on-flight entertainment. You never know if your checked bag will go missing, so you'll have at least have a change of clothes.
Pro Tip:
It's also a good idea to keep your valuable items in your personal bag.