Blog
Introducing the EatSmart Precision Baby Check Scale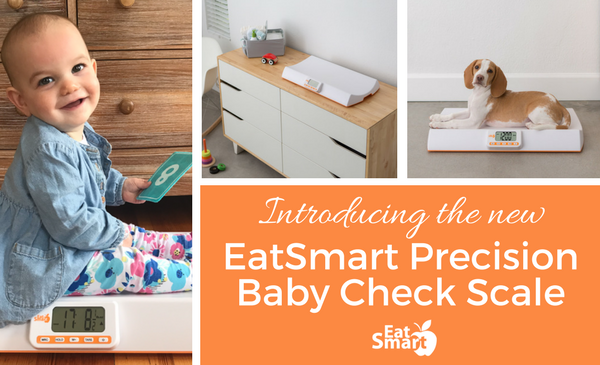 We are excited to introduce the brand new
EatSmart Precision Baby Check Scale
. Our first ever baby scale is great for weighing pets, too, and it allows users to easily track their little one's growth. With accurate readings at each weigh in, parents can track their child's development in those important early years. The Baby Check Scale provides reliable weight readings in 0.5 ounce increments up to 44 pounds (20 kilograms). Sleek and stylish, the large, easy-to-clean white platform is complemented by subtle orange accents that fit perfectly in any room of the house. Deduct the weight of a toy, diaper, or blanket with the Tare function, then easily save your child's current weight with the Memory button. Before your baby's next weigh-in, simply press the Memory Recall button to reference your child's previous weight reading and start tracking development in seconds.
Here's the front of the box:
---
Here's the back of the box:
---
What's in the box:
Inside the box, you will find the baby scale, batteries, an instruction manual and customer satisfaction guarantee.
---
Battery:
The Precision Baby Check Scale runs on 2 AAA batteries, which are included with your purchase.
---
LCD screen:
The easy to read LCD screen measures 2 7/8 inches wide by 1 3/8 inches tall, and 3 inches diagonally. For context of its size, here is the screen next to a $5 bill. .
---
Measurement Modes:
You can easily switch between pounds and kilograms by pushing the Tare button when there isn't anything on the scale.
---
Innovative Scoop Platform:
The Baby Check Scale features an easy to clean, large scoop platform for your little ones added comfort and security.
---
Sleek design:
The stylish white design with subtle orange accents fits perfectly into any room of the house.
---
How to weigh your baby:
https://www.instagram.com/p/Bc2y7jXn_39
---
Weighs up to 44 pounds:
It's large enough to easily accommodate toddlers up to 44 pounds.
---
Skip the DIY weigh ins!
Never worry about squeezing your baby into a mixing bowl again!
---
As with all EatSmart scales, the Precision Baby Check includes our 100% satisfaction guarantee and two-year warranty.
Click here to purchase the scale on our website or Amazon for $59.99.
Do you have any questions about our new Precision Baby Check Scale? Please tweet them to us @eatsmartscales. We're here to help!