Blog
17 Things You Can Do to Create a Perfect Morning Routine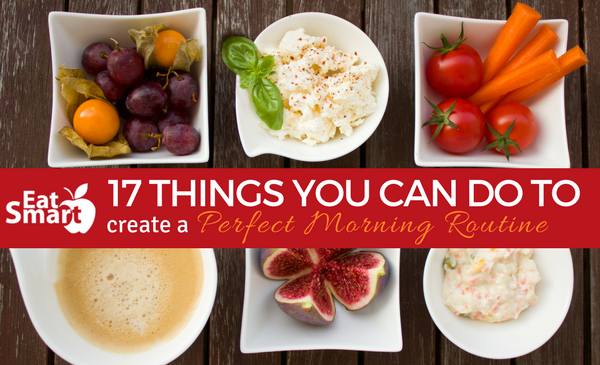 Establishing a consistent early routine helps you have a more productive and healthier day. When you start early and accomplish tasks before you head off to work, it leaves you in a positive frame of mind and sets a productive tone for your day. But what if you aren't a morning person or have a busy family life? Don't worry, a morning routine does not mean you need to awaken by 4:00 AM. It only means you need to set aside a little bit of extra time every day, and accomplish tasks that are important to you. The following 17 ideas are simply inspiration to get you started. Choose the tasks that make the most sense for your lifestyle and add them in slowly. Remember, morning routines are the most powerful when they require as little decision-making as possible, so automate what you can!
How to Create a Perfect Morning Routine:
Wake up earlier
Getting up 30 – 60 minutes earlier gives you the time you need to accomplish your habits and start your morning out on a positive note. If you aren't a morning person start with 30 minutes and slowly increase your wake up time.
Stretch
Take a few minutes to stretch your body from head to toe. It energizes your body and gets the blood circulating. It helps clear tension from the previous day and smooth out any kinks from an odd sleep position.
Weigh yourself
Weighing yourself first thing in the morning, whether it's daily or weekly, helps you adjust your health and fitness goals. Weight can fluctuate day to day, but if the scale has been down or up for several days in a row it's a trend worth paying attention to! Our
Precision MaxView Digital Bathroom Scale
has an extra large and bright LED display - it's easy to read first thing in the morning.
Drink water
Your body hasn't had any hydration for several hours. Drinking water will help remove waste from your body, improve concentration, and gives you an energy boost. Add lemon for flavor and a little vitamin C.
Exercise
This doesn't have to be a full workout. If you're pressed for time, a brisk walk with your pet or an app such as
7-minute workout
, gets your body moving. If you have the time for a full sweat session, studies show people who do their workouts in the morning tend to stick with this habit long term. Here are tips on how to create a successful
morning workout routine
.
Get centered
Take a few moments for centering yourself. Meditation, prayer, or deep breathing helps relieve stress, lower blood pressure, and lets the body relax. Prayer and meditation can also increase feelings of happiness and joy by
elevating levels of dopamine
.
Take a shower
A warm shower will help you feel revived and energized. Showering in peace, before anyone else wakes, can also feel like a small luxury.
Set or review your goals
We all have things we want to accomplish. Both long and short term goals give you a clear cut idea on what to strive for and add some structure to your day. What will your life look like when you achieve your goals? Reviewing your goals helps keep you on track and make tweaks as necessary.
Prioritize your day
Take a moment to review the day's to-do list and prioritize them in order of importance and urgency. Which are going to have you feeling the most accomplished and satisfied for the day? Focus on accomplishing the three most important and urgent tasks.
Pack lunch
Take a few moments to pack yourself a nutritious lunch for the day ahead. It's good for your health and your wallet. Skip the boring sandwich or sad salad with these
Quick and Healthy Lunch Ideas for People "On the Go"
.
Grab some snacks
After you have made your lunch, pack healthy snacks to keep you powered through your busy day. Yogurt, fruit, and nuts are some simple, delicious choices. Our
Precision Digital Kitchen Scale
makes the task of portioning out snacks quick and easy, the recessed platform keeps small items from rolling off the scale.
Drink a warm beverage
A warm drink can feel calming and comforting. Tea or coffee can provide a little caffeine to give your morning a jumpstart. Herbal tea or warm lemon water are caffeine-free options.
Eat breakfast
Start your day with a hearty breakfast for you and your family. Breakfast kick-starts your metabolism and provides you with energy you need to tackle the day.
Oatmeal made in your slow cooker
or
smoothie bowls
are easy choices. No time to sit and eat? You can take these
portable breakfast
options along with you.
Take your supplements
Vitamins and supplements work best when taken on a consistent basis. Adding them to your morning routine helps you remember to take them.
Food journal
If weight loss and fitness are part of your goals, maintaining a food journal helps keep you on track with your eating. It helps monitor those extra splurges, as well as ensures you're eating regular meals. For those who are counting calories, carbohydrates, or macros our
Digital Nutrition Scale – Professional Food and Nutrient Calculator
analyzes the nutritional content of any food by portion size. It instantly calculates the following cardiovascular nutrients essential for overall well-being: Calories, Carbohydrates, Fiber, Sodium, Potassium, Magnesium, Total Fat, Saturated Fat, Cholesterol, Calcium, Protein, Vitamin K.
Pack a gym bag
Planning on doing your workout at lunch or after work? Make sure you have your workout clothes, music, and sneakers packed and ready to go. Keep your basic essentials, such as soap, deodorant, body wipes, hair ties, combination lock, etc., packed in a small
TravelWise Packing Cube
. Having your go-to items ready eliminates excuses later on.
Plan dinner
Prepping your ingredients for dinner means one less thing you have to do when you walk in the door at night. At the very least, decide on what you are making and double check that you have the necessary ingredients on hand.
---
Pick a few of these habits to incorporate into your daily life and add on as you feel ready. Even a few tweaks to your morning schedule can have you feeling more organized and accomplished as you tackle your busy day.
Do you have more tips to help create a successful morning routine? Please share with us on Twitter, @EatSmartScales.