Blog
15 Ways to Make a Healthier Meatloaf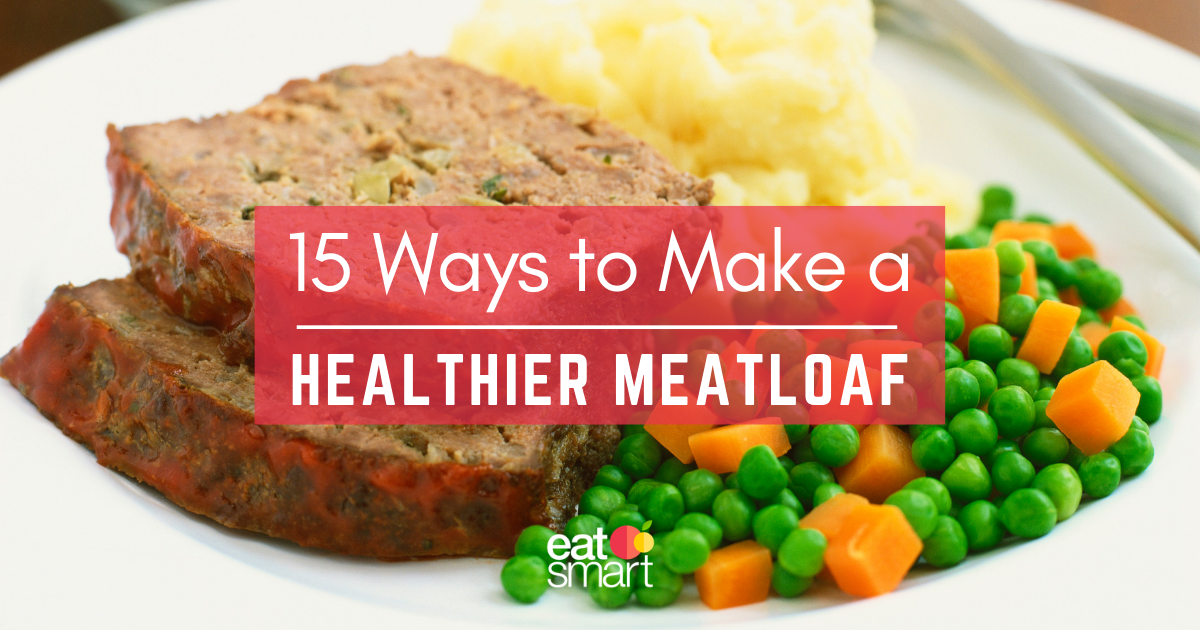 For many, meatloaf is a delicious comfort food that evokes warm memories of dinnertime as a child. Would you like to enjoy one your favorite meals without all of the fat and calories in a traditional meatloaf recipe? Fortunately, it's possible (and quite simple!) to lighten up this classic favorite and still keep all of juicy flavors you love.
Stick to smart eating habits by using these tips to create a meatloaf that is moist, hearty, and healthy.
Here are 15 things you can do to make your meatloaf healthier:
Use lean beef
Instead of using ground chuck or a meatloaf mix, slash calories and fat by using lean ground beef. You'll still have the familiar beefy taste but have a much healthier meal.
Use ground turkey
Using ground turkey can help you cut even more calories and fat. If you're not ready for a 100% turkey meatloaf, start with a 50/50 mixture of lean beef and ground turkey for a lightened up beefy taste.
Replace some meat with whole grains
Quinoa, oats, or bulgur wheat all add a hearty texture to meatloaf as well as heart healthy fiber. You can use less meat when you add in these whole grains.
Replace some meat with vegetables
You can cut out a significant amount of calories and fat by replacing a portion of the meat with vegetables. Mushrooms have a meaty texture and add umami flavor (try portabellas, shiitakes, or creminis). Additionally, bell peppers, sautéed spinach, celery, carrots, onions, and zucchini will add flavor and nutrition. Finely chop your veggies in a food processor for a similar texture to meat.
Choose whole wheat breadcrumbs
Instead of using plain bread crumbs, choose a whole wheat version. You'll get extra fiber and nutrients that you won't find using white bread.
Use quinoa
For a grain-free alternative, skip breadcrumbs altogether and replace them with cooked quinoa. You'll get extra protein, fiber, nutrients and it is also naturally gluten free.
Replace breadcrumbs with seeds
Not a big fan of quinoa? Boost nutrition by using chia, flax, or ground sunflower seeds. They are also grain free and are filled with fiber, plant-based protein, essential vitamins, antioxidants, and unsaturated fats.
Make individual loaves
Divide a pound of meat into 4 individual loaves and bake in a baking sheet. The easiest and most efficient way to do this accurately is to measure out portions on your
Elite Digital Kitchen Scale
. The Elite has a wide platform, making it easy to measure multiple mini meat loaves. The tare button lets you zero out the weight of a plate as well as the previous mini loaves.
Use seasonings
You won't have bland or dry meatloaf when you keep it moist with ingredients such as Worcestershire sauce or coconut aminos and seasonings such as garlic, rosemary, and thyme.
Try egg whites
Rather than use the whole egg as a binder use the egg whites. They will still keep your meatloaf from falling apart without adding in extra calories and fat.
Replace bacon
Love the salty crunch topping of bacon? Use a few strips of lean low sodium turkey bacon instead.
Use lower fat cheese
Who doesn't love a cheesy filling in their meatloaf? Cut saturated fat and calories by choosing a lower fat cheese. Feta, for instance, is naturally lower in fat and it's packed with flavor.
Skip the ketchup
Ketchup has added refined sugars and sodium; instead make a mixture of tomato paste, apple cider vinegar and spices that's much more flavorful and healthy.
Nix the cream of mushroom soup
Cream of mushroom soup can be full of fat and sodium. Lighten your dish up by using a lower fat mushroom sauce such as
this recipe
by Genius Kitchen. You'll still get a lot of flavor but not the unwanted extras.
Skip the meat
Instead of using meat, make a vegetarian version using black beans or lentils. It will have a meaty texture but be much healthier for your heart. Legumes are naturally low in calories and fat but high in fiber and protein.
---
PRO TIP:
We do recommend using your
Elite Thermocouple Digital Food Thermometer
to monitor when your meatloaf is ready. This ensures your meatloaf is tasty, juicy, and cooked to a proper temperature. The Elite Thermometer measures internal temperature in 7 seconds or less on an easy to read blue lit LCD display. The foldable 4-inch, probe has a 1.5mm step-down tip that allows for smaller punctures to keep delicious flavors in.
---
Do you have a healthy go-to meatloaf recipe that you love? Tweet it to us at @EatSmartScales.
You may also enjoy reading
Veggie Noodle Recipes – That Are Great Pasta Substitutes For Pasta Lovers
.