Blog
2013 EatSmart Happy Holiday Gift Guide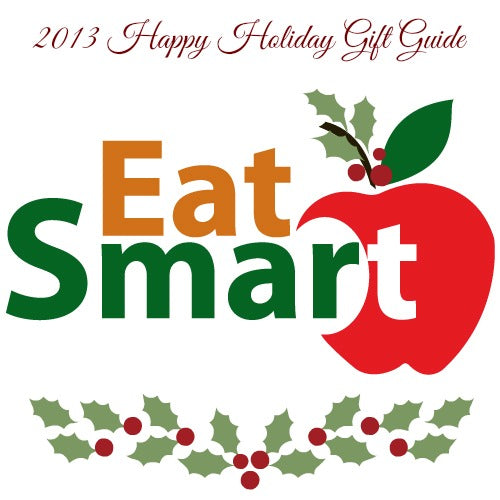 Do you face the dilemma of having SO MANY gifts to buy for all your favorite people but OH SO FEW ideas on what would make the perfect gift? We come prepared with a list of EatSmart suggestions that helps those on your gift list eat smarter, live healthier and travel easier.
TravelWise "Weekender" 3 Piece Packing Cube System
The TravelWise 3 piece packing cube set is a travel essential that allows clothes to stay folded and neat when packed in their own "small drawers". The cubes are fantastic for staying organized on short travels and long travels alike and help you avoid over packing. Constructed of lightweight, durable nylon, these multi-sized cubes allow you to compartmentalize similar items such as shirts, pants, undies and electronic accessories, keeping them organized and easy to find. Available in 5 distinct colors, teal, purple, red, silver & black--The TravelWise cubes make a great gift for the frequent flyer, casual traveler, biker and backpacker who needs to utilize interior space to the max and streamline packing. Where to buy?? Go to
Amazon.com
to pick up a set ( or 2) for only $22.95
EatSmart Precision Digital Tracker Scale
The newest addition to our line of innovative bathroom scales, the Precision Tracker gives users the ability to work towards long term weight goals, while monitoring short term progress--often the motivation needed to achieve success. At each weigh-in, the scale displays 3 readings: current weight, weight change from last weigh-in and the total change from starting weight. Thinking of running a family 'biggest loser' contest? This scale privately stores personal data for up to 8 users and automatically identifies the person standing on the scale. Everyone in the household can enjoy tracking their progress together. It's the perfect gift to reinforce the fact that pound shedding is not a quick-fix, but part of a lifelong commitment. Buy the Precision Tracker for only $44.95 on
Amazon.com
.
EatSmart Precision Elite Digital Kitchen Scale
The EatSmart Precision Elite Kitchen Scale is every cook and bakers dream! The Precision Elite has the capability to weigh ingredients in four different units; ounces, pounds, grams and kilograms, allowing bakers and cooks to master international recipes. It features an extra-large backlit LCD screen for clear reading, a stainless steel platform that provides ample space to accommodate large mixing bowls, all with a 15lb weight capacity. You will also receive a FREE Calorie Factors Book making it easy to achieve goals such as portion control and calorie counting. Portion control isn't just about restriction; it's about remembering that in moderation, everything can be a part of a healthy diet. The Elite is an essential tool in the kitchen and can be purchased at
Amazon.com
for only $36.95.
What EatSmart Products will you add to your Wish List?
About the Author: Maria Geronimo is the Public Relations Director at EatSmart Products.