Blog
7 Tips to Ease into a Back-to-School Routine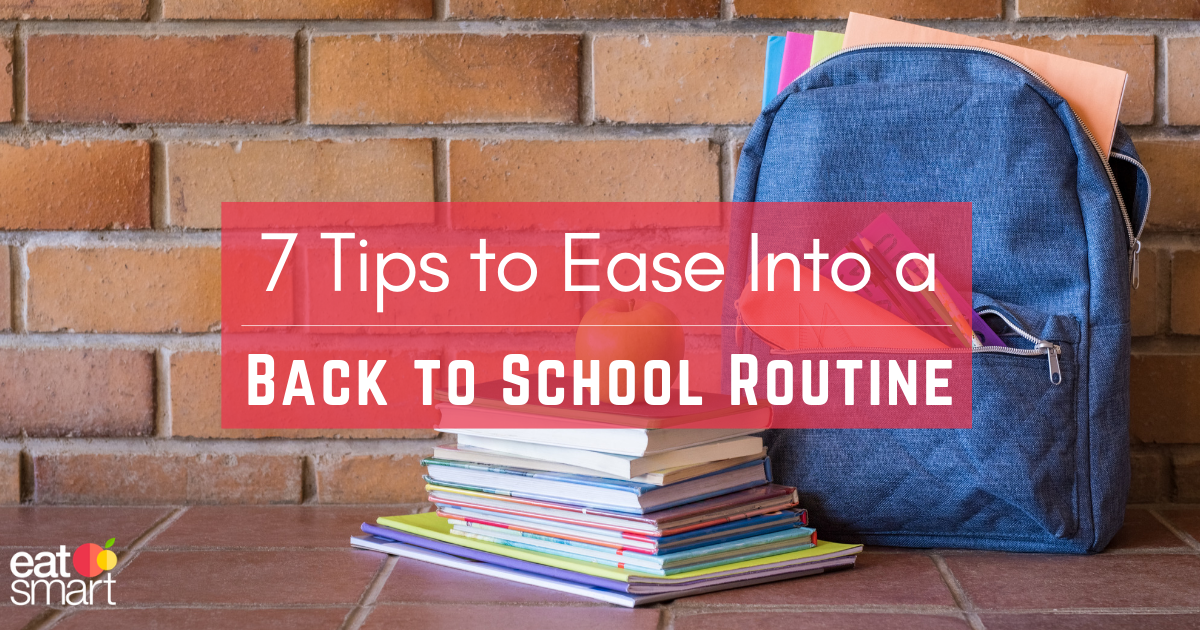 As summer comes to a close and the school year begins, it's important to establish a back-to-school routine. It will help the whole family adjust to their new schedule and get everyone out the door on-time each morning.
While transitioning out of "summer mode" can be tough, there are a few things you can do to help yourself and your children this fall. Consistent, well-designed routines help build good habits, reduce stress, ease anxious feelings, and decrease irritability for both parents and kids alike.
Here are 7 Tips To Ease Into a Back-to-School Routine:
Dedicate a place for school necessities
Have a dedicated place in your home for your children's school necessities. Keeping backpacks, supplies, lunchboxes, and school forms in the same space stops the scramble of searching for misplaced items. Put your child in charge of emptying and hanging up their backpack each day after school.
TravelWise Packing Cubes
come in handy for holding extra supplies to replenish backpacks. They act as small drawers and are made of durable nylon with two-way zippers that are easy for small hands to open.
Establish a consistent sleep schedule
To get kids back on a sleep schedule, start going to sleep earlier 10 – 14 days prior to classes starting. Weekend schedules should be similar to weekdays to ensure they're getting enough sleep. Keep in mind anxieties often come out around bedtime. Help your children create an age appropriate sleep routine that helps them calm their minds and prepare for bed.
Get familiar with any new surroundings
Is your child starting a new school or taking the bus for the first time? Help familiarize them with their new surroundings. Show them where the school is and drive the route to and from school several times to help them get to know their new routine. If it's a new school, stop by before classes begin and walk around.
Make play dates
Arrange playdates for younger children to help them reconnect with school friends. They will feel less anxious about returning to school knowing they have a friend waiting for them.
Create a morning routine
Create a morning routine to maximize efficiency and decrease stress. Teach kids their responsibilities including getting up and out of bed, getting dressed, eating breakfast, brushing teeth, etc . Then have them add something they may want to do, such as play outside when weather is nice or watch a YouTube kid's video. Be clear that the extra special item can only happen if the other activities are completed. And don't forget about you Mama and Papa!
Morning routines
set the entire family up for success.
Make meals together a priority
Every Sunday night take a few minutes to plan your week. This includes putting family dinners on the schedule so there is time built in for a meal together. Extracurricular activities and work might interfere with a traditional sit down dinner but even 15 minutes together to connect can go a long way. If your schedules are too hectic to allow family dinners, try having breakfast together in the morning. Eating breakfast together a few times a week is better than nothing.
Have your kids make their own lunch
In order for children to make their own lunch, they need to have everything in an accessible area of the fridge. Keep a few healthy lunch choices easy to reach, along with condiments, sides, and snacks. A little meal prep for them may be necessary, i.e. hard boiling eggs, slicing up chicken breast, or chopping up veggies. Pack up your own lunch next to them and teach them what serving sizes look like to help build healthy habits. Our
Precision Pro Digital Kitchen Scale
helps measure correct serving sizes of their favorite foods which can be placed into baggies for grab and go snacks.
---
You may also enjoy reading
Back to School: Tips For Packing Quick and Healthy School Lunches and Snacks
.
Do you have a tip for easing into a back to school routine? Tweet it to us at
@EatSmartScales
.