Blog
8 Common Excuses for Skipping Your Workout - And How To Overcome Them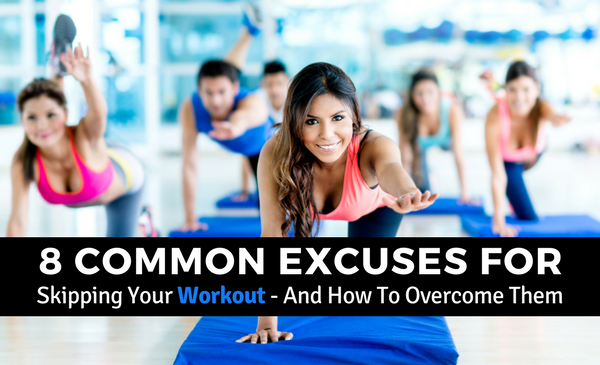 Do you want to get in better shape but can't seem to find the time – or motivation – to exercise? You're not alone. The average gym member only makes it to the gym twice a week. Twice a week is better than nothing, but you it's tough to reach your goals unless you exercise regularly. To live your best life, find an exercise routine that works for you, set realistic goals and make them happen.
Here are some of the most common excuses for skipping a workout and tips on how to overcome them:
Excuse: I had to work late.
Busted:
It happens to most of us at one point or another. That doesn't mean you have to skip your workout entirely. Modify your workout to fit in the time you do have. A brisk walk, a quick run, or a single strength training circuit can all be done in 10-20 minutes. If you think you might have to stay late, set your alarm 20 minutes earlier and do a quit workout at home.
Excuse: I just don't have the time.
Busted:
We understand you're busy, but working out can actually help boost your productivity. Think about how you can find time in your schedule for a workout. Is there a part of the day that is typically quiet? Rather than catching up on Facebook or lingering over coffee, use some of that time for fitness. If weekdays are not going to work for you, make it a priority to exercise on Saturday and Sunday mornings.
Excuse: I don't see any results.
Busted:
Be patient! It may take about 3 months to see the results of your work. In the meantime, a body fat scale can help you measure progress that you may not see visually. Our
Precision GetFit Digital Body Fat Scale
measures your muscle mass, bone mass, body fat, and body water in addition to weight. Being able to see those stats can help motivate you. If you still don't see any changes to your stats, then you may want to consider working with a personal trainer or trying different classes to achieve your goals.
Excuse: I'm too tired.
Busted:
It seems counterintuitive, but working out actually boosts your energy. A
study
by the researchers at the University of Georgia shows that even 20 minutes of moderate intensity exercise, three days a week, can decrease feelings of fatigue. So get moving!
Excuse: I'm not sure what to do when I get there.
Busted:
Many gyms come with a free personal training session or two once you officially become a member. Or, you can ask a gym employee to show you how to use the machines so you can exercise effectively. Take a fitness class where the instructor shows you different moves to do. He or she will be able to correct your form so you can perform the moves comfortably on your own. You can also try apps such as
Aaptiv
, in which a personal trainer will lead you through a guided workout based on your needs, duration of time and workout type (strength, yoga, treadmill, etc.).
Excuse: I have kids.
Busted:
Work around your children's schedules. Head to the gym while they are sleeping in the morning or right after they go to bed at night. If that doesn't work for you, join a gym that has childcare after school and on the weekends. They will be entertained and cared for while you get a sweat session in.
Excuse: It's too crowded for me.
Busted:
Try hitting the gym during the day when it's less crowded. If you need to go during peak gym hours, take a class, use the pool, or grab some dumbbells instead of waiting around for machines to become available.
Excuse: I'm intimidated by people in excellent shape.
Busted:
This is normal and everyone feels out of place as a beginner. You will feel more comfortable as you get used to actually being in the gym. And don't worry about everyone else! Most are focused on their own workouts and not really looking to see what you are doing.
Anyone can get in better shape and reach their fitness goals – it just takes a little time and effort. Are you ready to skip your excuses and start working out? Check out
12 Morning Workout Tips That Are Actually Helpful
and
8 Things You Should Never Do After a Workout
.
Do you have a tip on staying motivated to hit the gym? Tweet it to us at @eatsmartscales.