Blog
Authentic Spanish Gazpacho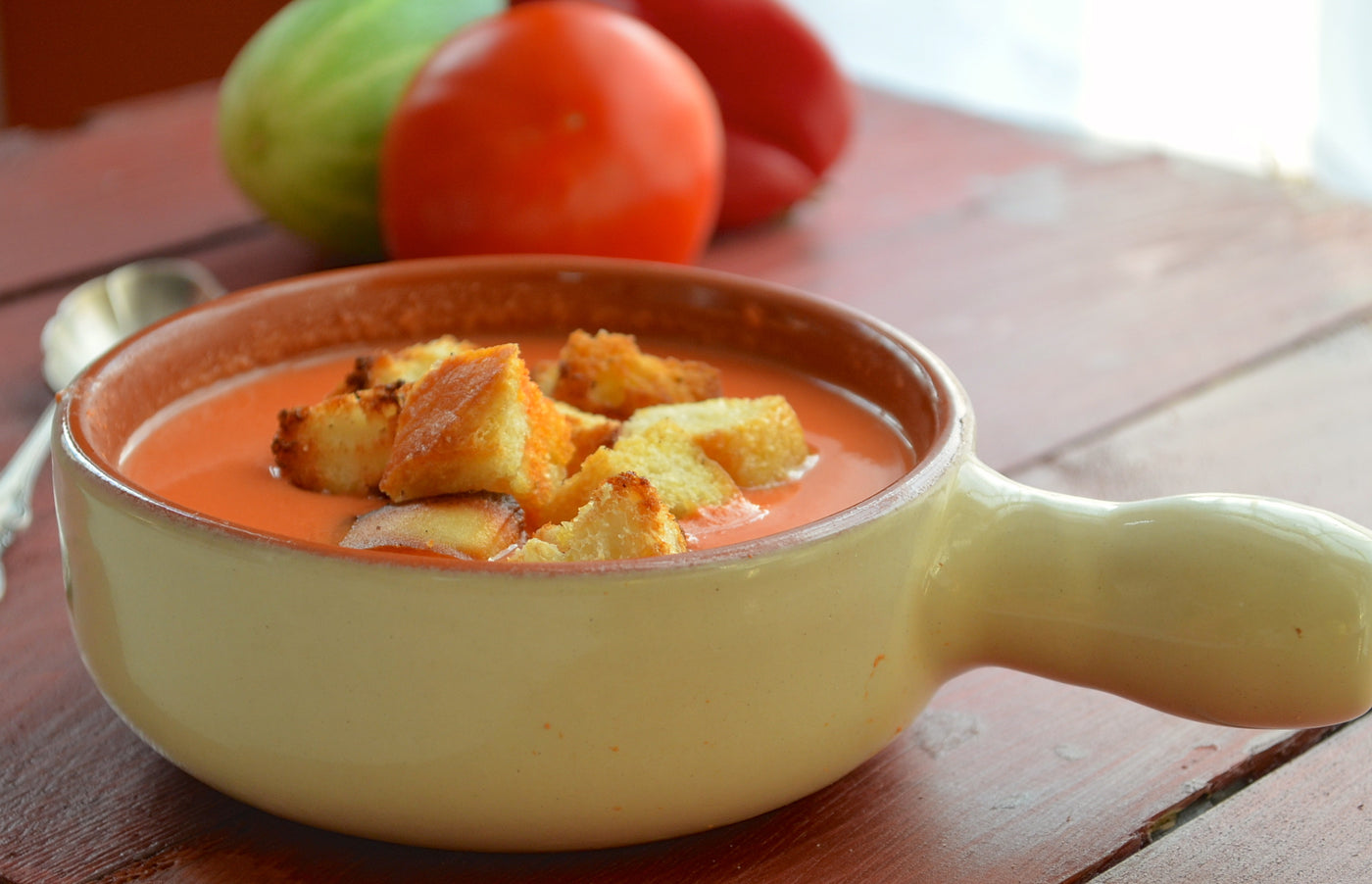 Prep time: 30 minutes Ingredients (makes approx 16 cups):
3 medium red bell peppers, roughly chopped
3 large cucumbers, peeled and roughly chopped
12 medium ripe tomatoes, roughly chopped
1 large clove garlic (optional)
2 cups water
3/4 cup extra virgin olive oil
1/4 cup + 1 tbsp apple cider vinegar
1 tsp salt or to taste
1/4 cup + 2 tbsp plain bread crumbs
Home made croutons (recipe follows)
Place all the ingredients in a blender (depending on the size of the jar, you may have to do it in several batches). Blend until smooth Pour through a fine mesh strainer to get rid of tomato and pepper skin and cucumber seeds Chill for a couple of hours before serving
HOME MADE CROUTONS
Cook time: 20 minutes
Ingredients:
1 large french baguette
1/4 cup olive oil
1/4 tsp salt or to taste
Dice the baguette and place in a large bowl Drizzle with olive oil and season with salt. Spread the bread cubes on a cookie sheet lined with tin foil in one single layer. Bake at 400F for 20 minutes or until golden brown
.
Serve on top of the gazpacho. Check out the recipe
Authentic Spanish Gazpacho
and other authentic Spanish meals at
May I Have That Recipe?
About the Authors:
We're two sister (Vicky and Ruth) originally form Barcelona, Spain with Middle Eastern roots. We started our blog,
May I Have That Recipe?
, to share our passion for food and our recipes with the world. We create mainly vegetarian and vegan recipes, using all natural and seasonal ingredients