Blog
Baked Pumpkin Oatmeal with Walnuts (and Pomegranates)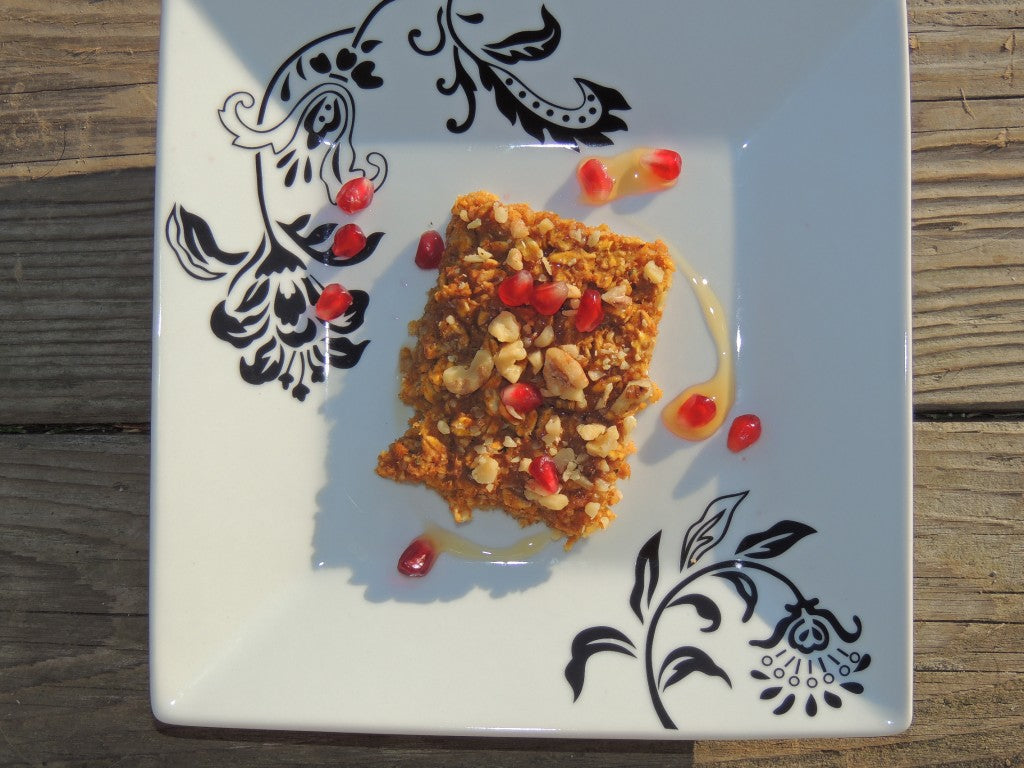 This Baked Pumpkin Oatmeal is a great way to start your day. It's loaded with healthy ingredients and baking a batch of it allows you to have a "go-to" breakfast all week long. If you have a sweet tooth, I would recommend increasing the amount of sweetener in the batter. However, I find that using a topping such as maple syrup or peanut butter adds enough "sweet".
Ingredients
3 cups of Rolled Oats (240 grams)
1.5 cups of Pumpkin (366 grams)
1/2 cup of Almond Milk (use the milk of your choice)
1 teaspoon Vanilla
1.5 teaspoons of Cinnamon
1 teaspoon Baking Powder
2 tablespoons of Almond Butter *or the nut butter of your choice
2 tablespoons of Maple Syrup (32 grams) *or the sweetener of your choice - agave or honey
1 tablespoon of Hemp Seeds (15 grams) *OPTIONAL
1/4 cup of Chopped Walnuts (30 grams) *or the nut of your choice
Pomegranates to sprinkle on top *OPTIONAL
Instructions
Preheat oven to 375 degrees
Mix all ingredients in mixing bowl
Grease 9x12 inch baking dish
Spread evenly into pan and sprinkle extra walnuts on top
Bake for about 20-25 minutes
Serve with maple syrup or topping of choice; honey, yogurt, peanut butter, pomegranates, etc.
Can you believe it? This recipe is actually vegan!! :)
About the Author: Karen Welby is the Marketing Director of EatSmart Products. Outside of EatSmart, she is a certified Health Coach and Personal Trainer.