Blog
EatSmart's Happy and Healthy 2014 Holiday Gift Guide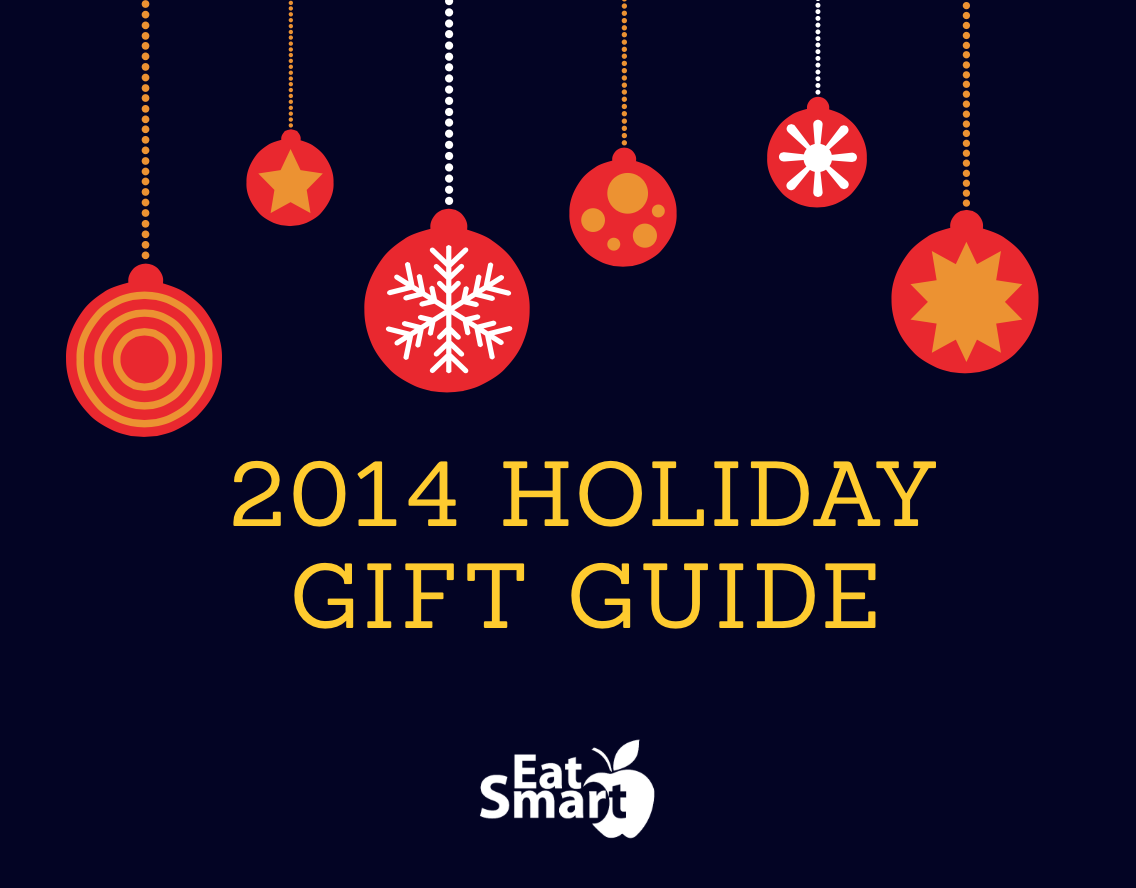 Are you wondering what to buy for someone this holiday season? At EatSmart, we put together our own gift guide of some of our best picks for those on your list. We want to help everyone have a happier and healthier season!
Holiday Gift Idea for the Fitness Enthusiast
Taylor Bluetooth Body Fat Smart Scale w/ 400 lb Capacity and SmarTrack App
This Bluetooth Smart Scale allows users to quickly and easily measure body weight, percent body fat, percent muscle mass and percent total body water and syncs that information to your smartphone or tablet with the SmarTrack app. It's also compatible with
MyFitnessPal
,
MapMyFitness
and
RunKeeper
. The Smart Scale, developed in partnership with
Taylor Precision Products
, can also give a daily calorie estimate to maintain current weight and supports up to 8 users.
Tracking body composition, watching muscle weight increase as body fat decreases is a powerful motivational and accountability too. The athlete in your life will love being able to monitor body fat and hydration levels while on the go as they prepare for their next competition. The calorie estimate is perfect for anyone trying to lose or maintain weight. Buy the Bluetooth Body Fat Smart Scale for only $59.95 on
Amazon.com
.
Holiday Gift Idea for the Foodie
EatSmart Precision Elite Digital Kitchen Scale
The Precision Elite Kitchen Scale is the perfect kitchen tool for anyone who cooks, bakes or counts calories. It has a sleek modern design with a wide base that allows for the largest of mixing bowls, excellent for all kitchen tasks. It can measure up to 15 lbs and is accurate within .05 oz / .1 g; accurate measuring leads to superior results! Buy the Precision Elite for only $39.95 on
Amazon.com
Holiday Gift Idea for the Bride-To-Be
EatSmart Precision MaxView Digital Bathroom Scale
The Precision MaxView is perfect for the bride-to-be. Any bride who is working out and staying in shape so she will wow her groom-to-be on their wedding day will appreciate this versatile and easy to use scale. Both the bride and groom can then maintain their weight after the wedding and avoid the dreaded weight gain that often happen during the first year of marriage. Buy the Precision MaxView for only $34.95 on
Amazon.com
Holiday Gift Idea for the Traveler
EatSmart Travelwise Packing Cubes 3 Piece Set
The Travelwise 3 Piece Weekender Packing Cube Set (Small, medium and large cubes) let you compartmentalize similar size items and provide optimum utilization of interior luggage space. This is perfect for the frequent traveler; clothing is organized and does not shift during travel. The mesh allows you to easily view what is in the cube and it maximizes space in your luggage! Buy the Travelwise 3 Piece Packing Cube Set for $21.95 on
Amazon.com
Bonus:
We also have a 5 Piece Packing Cube Set for $29.95 on
Amazon.com
.
Holiday Gift Idea for the Home Cook
EatSmart Precision Pro Instant Read Food Thermometer
The Precision Pro Food Thermometer lets the home cook easily know when meat is cooked to perfection, either on the grill or in the oven. No more guessing if the roast has been cooked long enough! Simply insert the stainless steel probe into the thickest part of the meat and in 5 seconds or less, you have an accurate internal food temperature reading. Family and friends will be impressed with consistently juicy and tender meat! Buy the Precision Pro Food Thermometer for $19.95 on
Amazon.com
What EatSmart Product are you wishing for this holiday season? Tweet to us and let us know!
About the Author: Karen Welby is the Marketing Director of EatSmart Products. Outside of EatSmart, she is a runner and running coach and can be found on twitter, @coach_karenw.