Return
September 19, 2014
Blog
Grilled Banana Split Recipe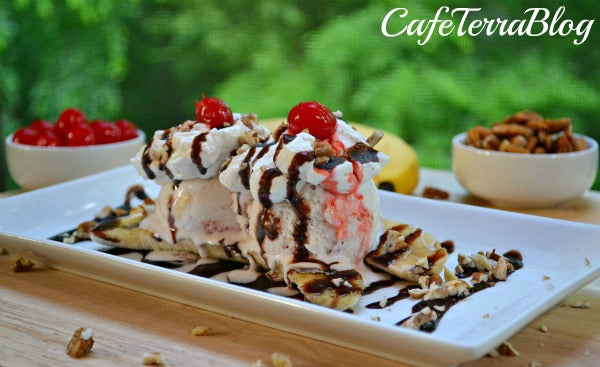 Grilling does not have to be all about meat. I think dessert is the most important meal of the day…..don't judge me! This treat complimented the
Smoked Pork Loin Tacos
perfectly….well at least my tummy thought so! This is the second addition to the grilling fun my hubby and I will be having this summer. I will be sharing some ice cream treats very soon, I so can not wait to share them with you!
This is a really quick and easy treat, and fun to make with your kids! I found a few different recipes, and then played off the recipes, and created my own flavor combination. So have fun, and use whatever you have in your cupboards for the grilled bananas. The most important part of the recipe is grilling the bananas. We used our smoker, but without the wood chips, and grilled the bananas. The bananas have a fun smokey flavor, and work perfectly with your creamy ice cream, and favorite toppings.
Ingredients
4 bananas
½ tsp cardamom
2 tsp lime juice
1 Tbsp melted butter
1 tsp honey
1 tsp brown sugar
Instructions
Leave the peel on, and slice the bananas.
First grill the bananas over indirect heat, meat side down for two minutes.
Then turn the bananas over, brush with sugar lime mixture, and grill over indirect heat, peel side down for three minutes, or until soft.
Remove peel, and top with favorite ice cream toppings!
Enjoy!
There is no specific way to flavor the bananas, but you do want to be careful with grilling them for too long. The bananas can get too mushy. Since we found some frozen Greek yogurt, we had to have our banana splits with some of course! A strawberry flavor of ice cream brings all your flavor combinations together perfectly.
What is your favorite fruit to grill? Tweet to us and let us know @eatsmartscales.
About the Author:
Cafe Terra Blog
is a sweet and savory food blog where there is something for everyone. It is a place where you can sit down, relax, and enjoy new recipes along with family favorites. Come on in, Have a seat!