Blog
Have a Healthy & Romantic Valentine's Day with these Treats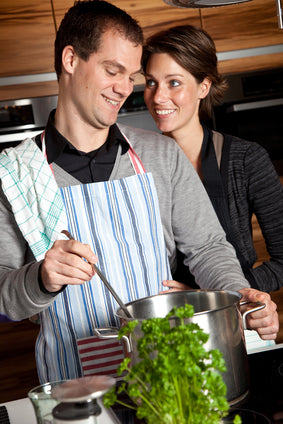 Romance buds unsuspectingly. Especially around Valentine's Day, hopeless romantics turn folly for flourishing love, head-over-feels infatuation and warm affection. Have you been hit by cupid's arrow? Feeling in the mood this year? Sweep your loved one off their feet with the most delicious foods and drinks always natural and healthy that spark romance and celebrate love. A little decor never hurt either! At any party or
birthday supplies
store you can find supplies to make DIY Valentine's Day crafts, such as red and white sprinkles candles, that can really create that ambiance. A "Piano Love Songs" playlist and festive decorations are simple accents. Cook your way into your loved one's heart with any of these delectable, yet
healthy recipes
from Better Homes Gardens:
Good Healthy Macaroni and Cheese: Enhancing the comforting flavors of mac 'n cheese, this recipe is packed with broccoli, carrots and green beans. Cook with multigrain or whole-grain rotini pasta.
Chicken Shrimp Jambalaya: A cajun slow cooker dish, BHG's healthy version of jambalaya boasts less than 400 calories per serving.
Grilled Chicken with Cucumber Yogurt Sauce: Grilled chicken never tasted so cool and creamy. Serve with brown rice and you've prepared delicious, Persian fare with a nutritious kick.
Sweet Snackin'
While cuddling on the couch, you're going to need some snacks for your sweet tooth that still have added health benefits. Trader Joe's Tempting Trail Mix is a sweet and salty medley of chocolate and peanut butter chips, dried cherries, cashews and peanuts. Pour a handful and indulge in sweet and savory decadence with some tart and crunch. Trail mix is also great for road trip snackin' on the way to a romantic weekend getaway. Hands in the cookie jar is no longer a bad thing! Bake
homemade graham crackers
shaped as hearts and pack 'em in a bag with ribbon to give to your sweetie. Two Peas Their Pod's Homemade Graham Crackers recipe is a cookie alternative that tastes delicious but doesn't contain hydrogenated oils and high fructose corn syrup. Mix up the dough in a food processor using all-purpose and whole wheat flour, sugar, honey, molasses and other easy ingredients. Cut the rolled-out dough with a heart-shaped cookie cutter and sprinkle with cinnamon and sugar.
Confections for Couples
The beauty of desserts is that treats are not only fun to eat, but they're
fun to bake
, especially with the one you're crushin' on. On Valentine's Day bake any of these dessert recipes with your loved one:
Banana-Oatmeal Chocolate Chip Cookies: Susan Sarandon's guilt-free recipe includes healthy ingredients like rolled oats, soy milk, walnuts and semisweet vegan chocolate chips.
Very Berry Cobbler: Turn up the heat in the kitchen with Wellness Mama's Very Berry Cobbler recipe. As post-dinner indulgence, the berry cobbler is delicious, free of sugar and uses grain-free almond flour.
Cookie Dough Dip: Cookie dough that's not only safe to eat but healthy? Yes, and it's made with chickpeas. ChocolateCoveredKatie.com's healthy cookie dough is "high in protein, gluten-free, and it can even be sugar-free." Dig in with fresh fruit or graham crackers that you just so happened to bake from scratch.
About the Author: This guest post is by Catherine Juniper, a part-time nutritionist and yoga instructor. Catherine enjoys sharing her tips on how to de-stress, eat right and keep up a good solid exercise routine.