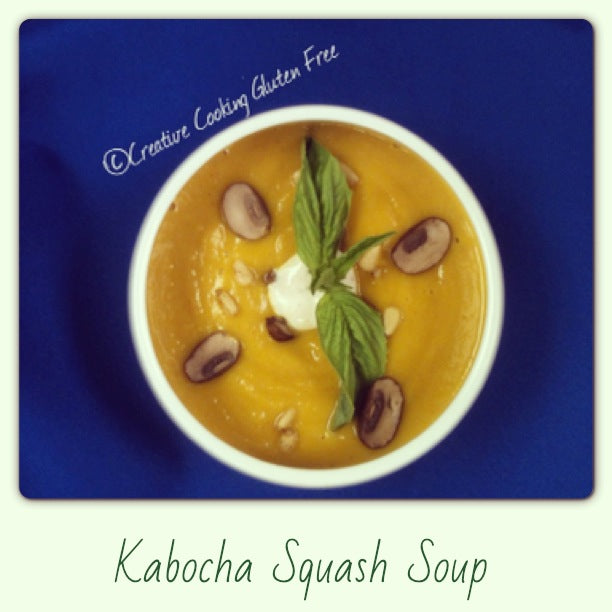 A deliciously creamy and spiced kabocha squash soup with a hint of sweetness from the cinnamon sugar sour cream.
Yield: 40 oz Serving Size: 8 oz Number of Servings: 5
Soup Ingredients / U.S. Standard:
Olive oil, extra-virgin - 2 tbsp. Kabocha squash, peeled, seeded, large dice - 35 oz. Carrot, peeled, large dice - 5 oz. Celery, large dice - 5 oz. Apple, granny smith, peeled, seeded, large dice - 4 oz. Onion, white or yellow, large dice - 5 oz. Garlic, rough chop - 2 tbsp. Ginger, grated - 1 tsp. Paprika - 1 tsp. Cayenne pepper - 1 ½ tsp. Cinnamon, ground - 1 ½ tsp. Vegetable stock, divided - 4 ½ cups Salt, kosher - 1 tsp.
Toppings:
Pine nuts, toasted - ¼ cup Mushrooms, crimini, sliced and blanched - 4 oz. Sour Cream - ¼ cup Cinnamon - 1/8 tsp. Sugar - ¼ tsp.
Method of Preparation:
Gather all the ingredients and equipment.
Wash, peel, and wash the squash, carrot, celery, and apple. Set aside.
In a large stock pot add olive oil and heat over medium heat.
Add onion, and cook until translucent. This should take about 3-5 minutes.
Add garlic and ginger and cook for an additional minute.
Next, add in the kabocha squash, carrot, and celery.
Cook for 8-10 minutes until slightly softened.
Add in paprika, cayenne pepper, and cinnamon, stir to coat evenly.
Next add in 4 cups of the vegetable stock. Reserve the remaining ½ cup – this will be used to blanch the mushrooms.
Bring stock pot to a boil, reduce to a simmer and cook for 20 minutes or until squash is fork tender.
While the soup is simmering, take a small dry sauté pan and add the pine nuts.
Cook over medium heat until lightly toasted but do not burn them.
Remove the pine nuts and set them aside to garnish the soup with.
In the same sauté pan add the remaining ¼ cup of vegetable stock and bring to a simmer over medium heat. Add the sliced mushrooms and cook for 6-8 minutes.
Once the mushrooms have finished cooking, set them aside in a small bowl to garnish the soup with.
Add the mushroom stock to the simmering stock pot.
To create the sour cream topping place the sour cream in a small bowl.
Add the cinnamon and sugar and mix well. Taste for seasoning and adjust if necessary.
Turn off the stock pot.
In a heavy duty blender puree soup (in batches if needed), until smooth.
Return back to the stock pot, season with salt.
Taste for seasoning and adjust if necessary.
Soup temperature must reach 165°F before serving.
Soup should be held at 135°F
Serve immediately in a large bowl topped with mushrooms, pine nuts, and a teaspoon of cinnamon sugar sour cream.
Cool remaining soup to 41°F as quickly as possible, buy placing the a container of the remaining soup in an ice bath to help with the cooling process. Store in a refrigerator for up to 5 days.
To reheat the soup, place it in a stock pot and cook over medium-low heat (do not boil) until it has reached 165°F for 15 seconds.
Chef's Notes:
This is a blended soup, so using a rough chop on the vegetables is a good way to save some time during preparation.
For a vegan option you may substitute out the sour cream for vegan sour cream such as "Tofutti Better Than Sour Cream"
About the Author: Jenny Manseau is a Chef, Culinary Nutrition student and author of the blog Creative Cooking Gluten Free. Jenny created her website after being diagnosed in 2008 with Celiac Disease and takes many "regular" every day recipes and alters them to the gluten-free diet.