Blog
Skinny Beer Cheese Soup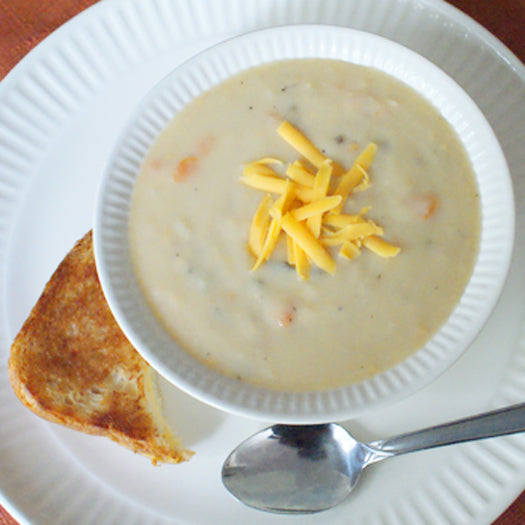 EatSmart Products is proud to celebrate Super Bowl 2014 here in New Jersey. WOW your guests with this lighter, healthier but still delicious Skinny Beer Cheese Soup and keep them coming back from more-all 4 quarters of the game!
Ingredients:
4 1/2 cups fat free chicken broth, divided
1 1/4 cups potato, peeled and cubed
2 tsp butter
1/2 cup onion, finely diced
1/2 cup celery, finely diced
1/2 cup carrot, finely diced
1 tsp garlic, minced
1/2 cup flour
2 1/2 cups 1% milk
5 oz sharp cheddar cheese, shredded
1/2 tsp dry mustard
1/2 tsp worcestershire sauce
1/4 tsp pepper
1/4 tsp salt
12 oz beer
Instructions:
In a small saucepan, simmer 2 cups of chicken broth and the potato for 15 minutes or until the potato is tender. Transfer the potato mixture to your blender and take out the center piece of the blender lid to let the steam escape. Put a clean dish towel over the top of the blender to avoid splatter. Blend until smooth. Set aside.
In a large dutch oven, melt the butter oven medium heat. Add the onion, celery and carrot to the pan and saute for 5 minutes, stirring occasionally. Add the garlic to the pan and cook for 30 seconds more.
Whisk together the flour, remaining broth, and milk in a medium bowl. Add this mixture to the dutch oven and bring to a boil. Boil for 1 minute, stirring constantly with a whisk.
Add the potato mixture, shredded cheese, dry mustard, worcestershire, pepper and salt to the soup. Stir constantly for one more minute (until the cheese melts).
Add the beer to the soup and bring to a simmer. Simmer for 15 minutes.
About the Author
: Becky Tarala is the voice behind
The Two Bite Club
, a blog about a love for food inspired by a family tradition. Becky is a wife and stay-at-home mom to two who shares recipes and stories from her family's past as well as simple and accessible family favorites.