Blog
The Beginner's Guide to Hosting Thanksgiving Dinner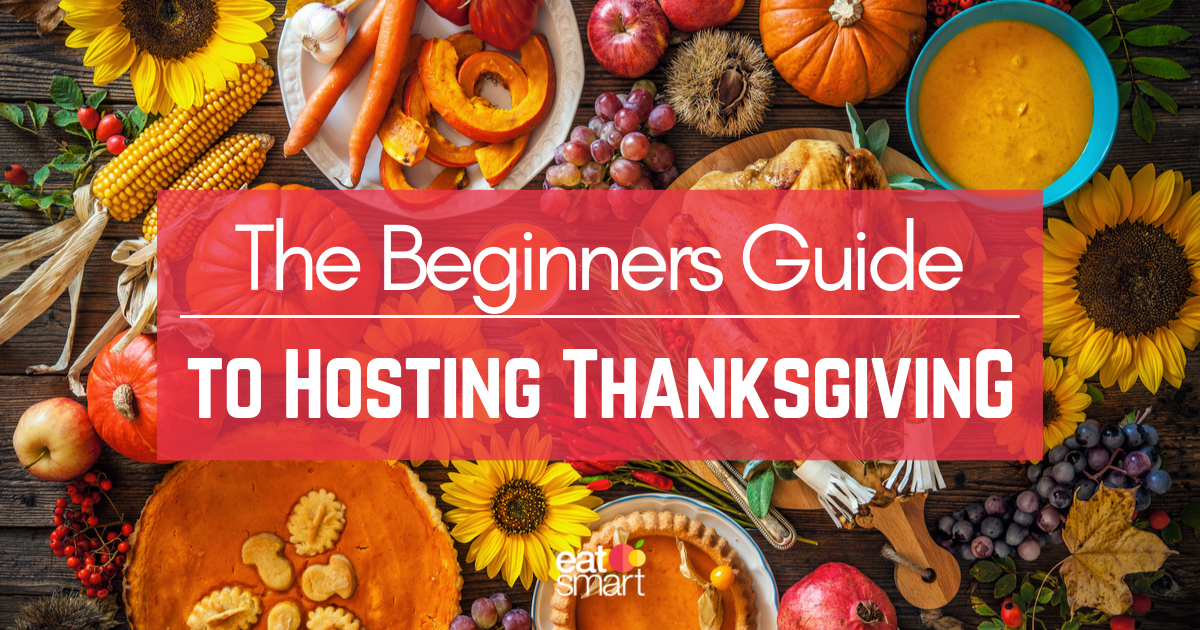 Is it your turn to host Thanksgiving this year? If hosting a holiday stresses you out, we can help. Whether your dinner is a large family gathering or small get-together, you can pull off a
stress-free
turkey feast. We've organized our planning tips chronologically, beginning one month from Thanksgiving. By following the right steps, you'll be able to enjoy the holiday – and your company – when the big day arrives.
1 Month Prior
Get a head count.
Call or email those on your guest list and see who will be attending. It's the perfect time to see who will be able to bring a side dish or dessert.
Plan your menu.
Are there family favorites that are a "must-have?" Be sure to add those in and any new sides that you might like to try. Don't forget to include some easy appetizers and beverages.
3 Weeks Prior
Review your recipes.
Create a list of what you will need to purchase and what you already have. This is the time to see if you need to order any specialty items. If you plan on having a fresh turkey, order it now.
Check your cooking supplies.
Do you have the necessary pans and tools to make the day go as smoothly as possible? Our
Precision Pro Digital Kitchen Scale
makes it easy to measure recipe ingredients for a crowd. Plus, the handy tare feature allows you to use one bowl rather than having to wash several measuring cups and spoons. Are the batteries working in your
Precision Pro Digital Food Thermometer
?
2 Weeks Prior
Prep dough for pies and rolls.
Are you planning on baking pies or rolls? Make batches of pie dough, wrap tightly, and freeze. Make rolls in advance, freeze, and defrost Thanksgiving morning.
Decide on set up.
Will you do a buffet or a sit down dinner? Knowing this lets you plan your set up and décor for the day.
Pick up beverages.
This is the time to pick up wine, beer, liquor, and soft drinks. They can be stored without being refrigerated.
1 Week Prior
Go food shopping.
Pick up your turkey and non-perishable items, including paper goods and baking supplies, a week prior. Perishable items, such as fresh produce, can be picked up a couple of days before Thanksgiving.
Buy some containers.
Have inexpensive containers on hand if you plan on sending your guests home with leftovers. Don't hand out your favorite storage containers since you may not get them back!
Make soup and broth.
Planning on a non-dairy soup course or need stock for your meal? Make it now and freeze until Tuesday, allowing enough time to thaw.
Make a cooking plan
. Figure out which dishes can be made in advance and how long dishes need to be cooked or reheated on Thanksgiving Day. Do you know how long your turkey will take? It takes about 13 minutes of cooking time for every pound of turkey. Our
Precision Elite Thermocouple Food Thermometer
gives you an accurate temperature reading in seconds, so you know when your turkey is perfectly cooked.
3 – 4 Days Prior
Defrost your turkey.
It takes 24 hours for 5 lbs of turkey to defrost in the refrigerator. If you choose to defrost the bird in cold water estimate a minimum thawing time of 30 minutes per lb. You will need to change the water every 30 minutes to keep the turkey cold.
2 Days Prior
Make pies.
Get your pie filling together and fill your crusts. Wrap and set in your fridge until Wednesday.
Clean the house.
Don't wait until the last minute to straighten your house, or you will be too exhausted to enjoy the holiday.
Defrost frozen items.
Put frozen items in your fridge so they are defrosted for when you need them.
The Day Before
Prep ingredients for tomorrow.
Wash and chop vegetables, salad fixings, and herbs in advance.
Make your side dishes.
Make and cook any sides that will keep overnight, then reheat them tomorrow.
Bake pies.
You'll be glad you did the prep work yesterday – just pop them right in the oven!
Bake desserts.
If you're making brownies, cake or cookies, get this done the day before.
Set the table.
You can assign a family member to do this for you. Take a quick walk through to make sure the house looks the way you want it to.
Thanksgiving Day
Preheat your oven and cook the turkey.
It's time! Depending on the size of the turkey, it could need anywhere from 2.75 hours to 5.25 hours of cook time. Use this
guide
from Real Simple.
Defrost the rolls.
Leave them on the counter until they are ready to go in the oven.
Chill beverages.
Put wine and soft drinks in the fridge to chill.
Prep salads.
Toss your freshly chopped vegetables with other salad fixings in a large serving dish.
Reheat the sides.
Once your turkey is finished, let it rest while you reheat side dishes and make the gravy.
The Day After
Take a rest and enjoy your leftovers.
Pop on Netflix and try this
Thanksgiving Turkey Soup
. It's a great way to use and enjoy your leftovers in new way.
PRINT IT OR PIN IT:
Do you have favorite tips for Thanksgiving? Tweet them to us at
@EatSmartScales
.