Blog
Vegetarian Burrito Bowls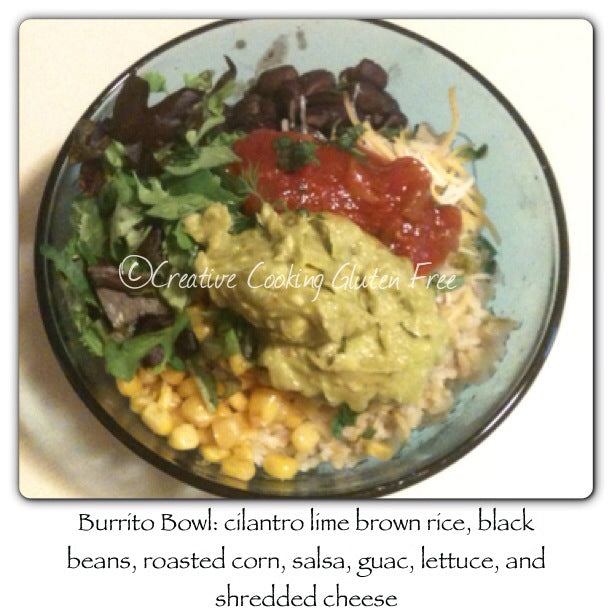 Ingredients:
Brown Rice, boil-in-the-bag - 1 bag
Cooking Spray - As needed
Corn, frozen – defrosted - 1 cup
Black beans, canned, no salt added - 1 can
Cumin, ground - 1/2 teaspoon
Cayenne Pepper, ground - 1/2 teaspoon
Lime, juice and zest - 1 zested then sliced into wedges
Avocado - 1 pit removed, and flesh scooped out
Cilantro - 2 tablespoons chopped
Salsa - 1/2 cup, divided
Lettuce, mixed greens - 1/2 cup, divided
Cheese, shredded - 1/2 cup, divided
Method of Preparation:
In a medium sauce pan bring 4 cups of water to a boil and add the brown rice (boil-in-a-bag) and cook on medium high heat for 10 minutes. Once cooked, remove from water and drain slightly over the sink. Divide evenly between the two bowls. Lightly spray a small sautee pan and heat over medium-high heat. Add corn and cook for 10 minutes, stirring occasionally. You are looking for a nice roasted color on the corn, you may need a little more or little less time depending on your stove. Be careful not to burn them. In a small sauce pan add the canned beans (no salt added or low sodium is best). Add the cumin, cayenne pepper, a pinch of lime zest (1/4 teaspoon), and the juice of 1/4 of the lime. Cook over medium heat for 8-10 minutes. In a small bowl add the flesh of the avocado and mash it up with 1/8 teaspoon cumin, and 1/8 teaspoon cayenne pepper. Squeeze 1/4 of the lime into the bowl and mix well. Set aside. Add the remaining 1/2 of the lime juice, cilantro and lime zest evenly into the bowls with rice and mix well. Top the rice with roasted corn, black beans, guacamole, lettuce, and shredded cheese. Serve with additional lime wedges if desired. Also great served with tortilla chips.
About the Author: Jenny Manseau is a Chef, Culinary Nutrition student and author of the blog Creative Cooking Gluten Free. Jenny created her website after being diagnosed in 2008 with Celiac Disease and takes many "regular" every day recipes and alters them to the gluten-free diet.