Blog
10 Outdoor Workouts That Don't Feel Like Exercise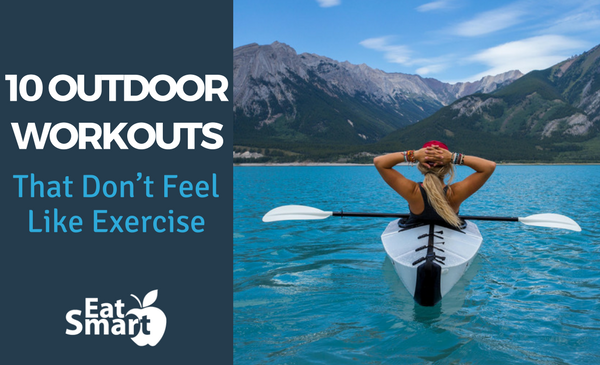 Whether you need a break from your normal routine or can't bear the thought of being inside the gym on a warm, sunny day, there are still plenty of ways to get your sweat on. When you're craving something new, grab your dog or call a friend, and head outside. There are many ways to exercise and burn calories with various outdoor activities. Many workouts can help you hit your health and fitness goals while providing a break from the monotony of your regular routine.
If you're skeptical that these outdoor workouts can give you the same benefits as the gym, monitor your progress with our
Precision GetFit Digital Body Fat Scale
. In addition to monitoring your weight, it will keep track of body fat, muscle mass, body water, and bone mass. The GetFit Scale has an automatic user recognition feature and it stores data for up to 8 users so family members can also keep track of their health metrics.
Burn calories (and have fun) with these outdoor workouts:
Biking
Biking works for adults and kids alike. It's a great way to spend time outdoors, see sites, and get your sweat on. Even if you don't own a bike many cities, towns, and parks have bicycle rentals that allow you to rent by the hour or for several days at a time. The more intense your bike ride, the more calories you will burn, while improving heart and lung functions and working major muscle groups.
Kayaking
Get a different perspective on your usual views and hit the water. Kayaking is a low impact way to use your upper body and build core strength. It even works your legs! If you paddle with purpose, you can also get your heart rate up. Kayaking can be done solo or with a partner. Kayaks are easy to rent for the day or a few hours, or you can purchase them on Amazon for under $75.
Stand up paddleboarding
Paddleboarding is a total body exercise and more intense than it looks. While your arms and shoulders work to propel you forward, your core works hard to maintain your balance on an unstable surface. It's a great workout on calm water and a killer workout on waves.
Rollerblading
When was the last time you went rollerblading or skating? Dust off your old skates and hit the park, don't forget your elbow and knee pads to keep you protected. While you enjoy that sense of freedom and fun, you'll be working your glutes and legs while rocking the cardio.
Tennis
Fresh air and sunshine are commonly associated with tennis. It's one of those exercises where you constantly move your body both side to side and front to back. You'll be fine tuning your strength and cardio capacity as you run around chasing the ball.
Hiking
Whether you're heading out solo with your dog, a friend or your family, hiking is a great way to spend time in nature. It's scenic, peaceful, and you can make it hard or easy, depending on the trails you chose. Bring along a backpack with water and snacks, or even a picnic lunch to make a day out of it.
Hit the playground
Swings, overhead ladders, things to climb, and even benches all make for a great outdoor workout. Play along with your kids for a training session that will leave you feeling a bit sore the next day. When's the last time you tried the monkey bars? This is definitely more fun than being stuck indoors!
Golfing
While you might not think swinging a golf club requires much strength, golf is actually a great workout. The average 18-hole golf course is between 5 and 8 miles. Skip the golf cart and you can walk well over the recommended daily 10,000 steps. For golfers who carry their own clubs, golf offers both cardio and weight bearing exercise. You also use your torso and core repeatedly to make those big swings.
Swimming
Does it feel too hot to exercise? Cool off and go for a swim. Swimming is a head to toe, full body workout. Not only does it improve your cardiovascular fitness, it can tone muscles and build strength. A study from
The Journal of Rheumatology
showed that people with osteoarthritis reported significant reductions in joint pain and stiffness, and experienced less physical limitation after engaging in activities like swimming. It doesn't matter if you swim in an ocean, pool, lake, or river, you still can get an excellent workout. Aim for 10 minutes of non-stop swimming and build up from there.
Play backyard games
Think Frisbee, tag, kickball, or jumping on the trampoline. They're all fun activities that will get your heart rate up, helping you to burn some serious calories. Get your kids or your friends together and play outside for at least an hour. You'll make fun memories as well as get some serious exercise.
Do you have an outdoor workout that you love? Tweet it to us at @EatSmartScales.
You may also enjoy reading
12 Morning Workout Tips That Are Actually Helpful
.