Blog
5 Reasons Why Watermelon Is Wonderful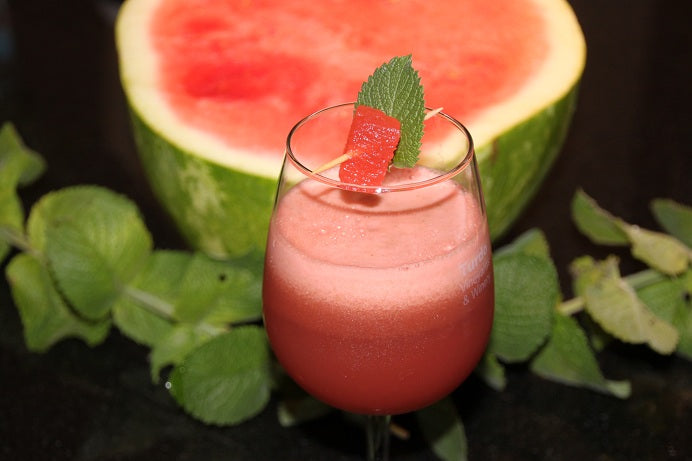 Watermelon. It's refreshing, sweet, light and low calorie. This juicy fruit is an excellent after dinner sweet treat and great in other ways too! I love it in salads, soups, drinks, smoothies, frozen treats! And what picnic or BBQ isn't complete without this iconic bright pink piece of summertime? I was in the grocery store with my guy the other day and honestly had no idea how to pick out a watermelon. I smelled it (that didn't work!) and then tapped on it (then jokingly played them like bongos!). I came home and did some research and my intuition was right on! To pick out an ideal watermelon, knock on them. You want to hear a hollow echo. Watermelon has always been a fun part of summer but the best part? It's good for you too!
Top 5 Reasons to Slurp up Watermelon!
High in Vitamins A & C as well as B6 and essential minerals, means it's loaded with antioxidants which helps fight free radicals (that can lead to inflammation and illnesses).
Besides providing 2 grams of protein and fiber, it's also a good source of lycopene and beta-carotene (which gives it its beautiful pink color!) and helps fight cancer and heart disease.
It's a low-calorie sweet that helps lose weight and curb your sweet tooth. One slice of watermelon has about 86 calories and less than 1 gram of fat.
It works as a great accent to savory dishes such as salads and soups.
There are so many fun ways to enjoy watermelon during the summer – just cut up in cubes or slices, in drinks (see my Watermelon Mint Cooler recipe below!), sorbets, granitas, popsicles, and even as a punch bowl or fruit bowl!
Bonus Tip! It's not just for your tummy! Use it as a body scrub for your skin too!
Watermelon Mint Cooler
It's almost embarrassing how easy this specialty drink is. It's a great drink to serve on a hot summer day that will really 'wow' your guests. Watermelon is hydrating and mint is great for digestion. This is truly a healthy and tasty drink! INGREDIENTS: (Serves 2)
2 cups seedless organic watermelon
5 sprigs organic fresh mint (I used the wild mint from my folk's garden!)
3 ice cubes
OPTIONAL:
For a fizzy drink: Splash seltzer (I personally prefer mine without the fizz)
To get your cocktail on: ½ cup vodka (no comment!)
For a chilled version: serve over ice (which I prefer)
DIRECTIONS:
Blend watermelon, mint and ice in a blender. That's it. No really, that's it!
ENJOY!
About the Author:
Abby Phon, a co-author of
Balance for Busy Moms – Cook Your Way to Health,
is a Certified Holistic Coach.
She leads corporate workshops on nutrition and lifestyle, conducts food tours, cooking demonstrations and offers individual health and nutrition coaching around the world.
Balance for Busy Moms – Cook Your Way to Health
is a one-of-a-kind cookbook for moms all around the world. Together with 30 Certified Health Coaches from across the US and Canada we share our stories of better life through mindful eating. This cookbook gives you a fabulous variety of recipes designed to enhance health for a better life.
http://www.feedyourmindbodyspirit.com/books
Connect with Abby on all of her sites. WEB:
feedyourmindbodyspirit.com
FB:
facebook.com/AbbyPhon
TWEET:
twitter.com/AbbyPhon
PIN:
pinterest.com/abbyphon
PANGEA:
pangeaorganics.com/abbyphon