Blog
Garlic-Roasted Vegetable Sub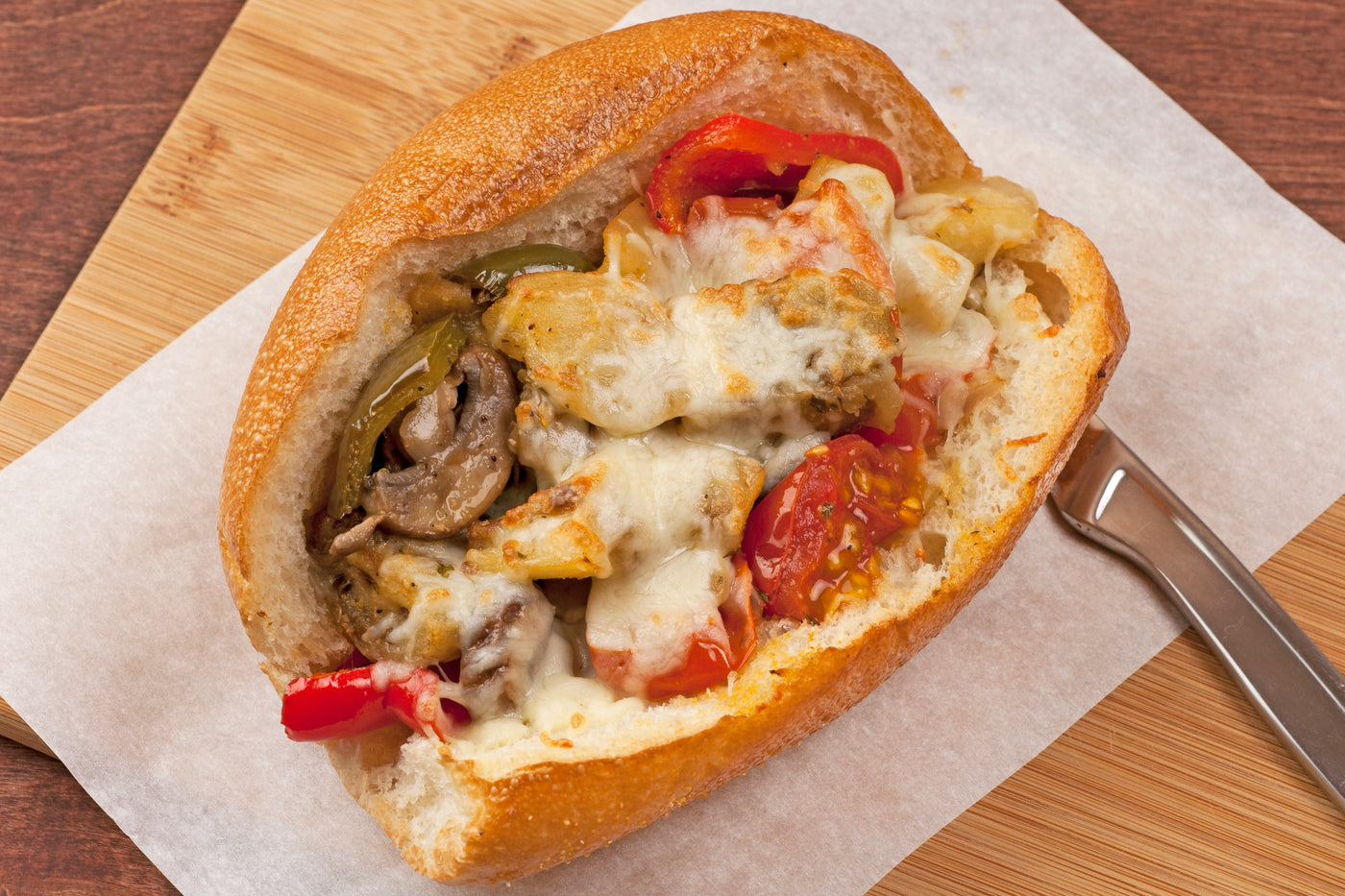 Oven-roasting is an easy way to prepare vegetables and bring out the best of their natural flavor. Served on soft sub rolls, these sandwiches are filled with a medley of garlic-roasted eggplant, bell peppers, onion, mushrooms and tomatoes, then topped with cheese and placed in the oven for a light toasting. Easy and truly delicious.
Ingredients:
1 medium eggplant, peeled and cut into 1-inch cubes
3 tablespoons olive oil, divided
1 medium red bell pepper, seeded and cut into 1-inch pieces
1 medium green bell pepper, seeded and cut into 1-inch pieces
4 Roma tomatoes, cut into 3 or 4 thick slices
2 thick slices sweet onion, separated into rings
8 ounces white button mushrooms, halved crosswise
2 cloves garlic, very finely chopped
Salt and freshly ground black pepper
4 soft sub/hoagie rolls (6-inch)
4 to 6 slices muenster (or provolone) cheese
Directions: (Makes 4 servings)
Preheat the oven to 400°F and line 2 large baking sheets with parchment. Place the eggplant cubes in a large bowl, drizzle with 1-1/2 tablespoons of olive oil, season with salt and pepper and toss to combine. Spread the cubes on one of the prepared baking sheets and set aside. Add the red and green bell peppers, tomato slices, onion rings and mushrooms to the bowl. Sprinkle with the chopped garlic, season with salt and pepper and drizzle with the remaining olive oil. Toss to combine and transfer to the other prepared baking sheet. Roast the vegetables until tender and lightly caramelized, 20 to 30 minutes. Rotate the baking sheets and toss the vegetables about halfway through the cooking time for best results. Split the rolls lengthwise and divide the vegetables between them. Top with muenster cheese and place in the oven for 4 to 5 minutes, or until the cheese is melted and bubbly and the rolls are lightly toasted. Serve with chips or fries.
About the Author: Lynne Webb is the owner and publisher of MyGourmetConnection. A lifelong foodie and experienced cook, she decided to use her graphic design and marketing background to launch a website that explored her passion for food. Her favorite indulgence is a great bottle of wine and few kinds of artisan cheese.