Blog
Gluten Free Vegetarian Spring Rolls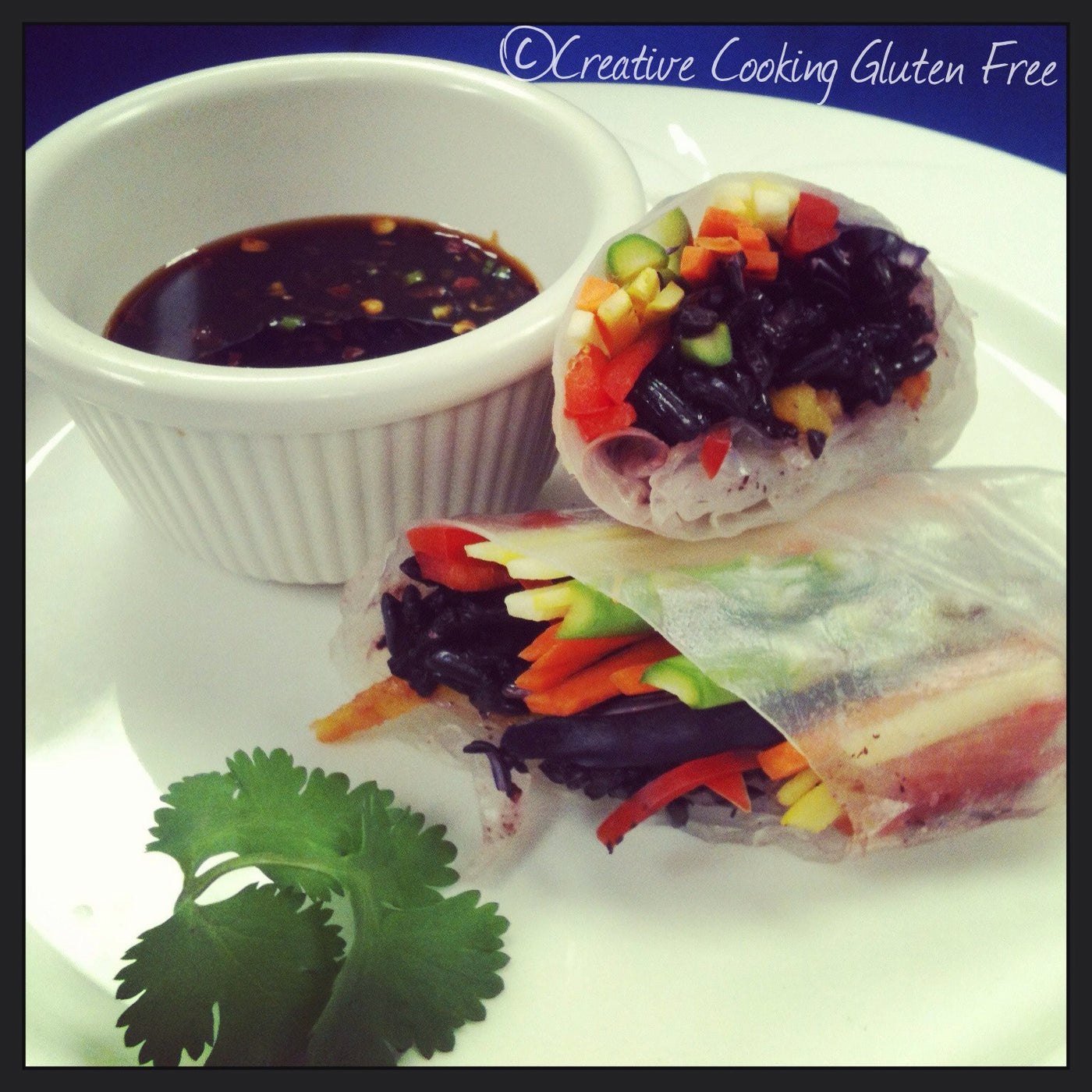 A spring roll, loaded with an assortment of vegetables served with a sweet spicy dipping sauce.
Yield: 8 Rolls Serving Size: 2 Rolls Number of Servings: 4
Spring Roll Ingredients:
Purple Sticky rice, cooked and cooled 1 ½ cups Summer squash, julienne 1 ounce Asparagus, julienne 1 ounce Carrot, julienne 1 ½ ounce Bell pepper, red, julienne 1 ½ ounce Red cabbage, julienne 1 ½ ounce Water, warm 6 cups Rice Paper wrappers 8 sheets
Dipping Sauce
Gluten-Free Soy Sauce, Tamari (San-J) ¼ cup Ginger, freshly grated 2 tsp Garlic, freshly grated 1 tsp Agave or Honey 1 Tbs Crushed Red Pepper Flakes ¼ tsp
Method of Preparation:
1. Gather all ingredients and equipment. 2. Cook rice according to package and set aside to cool. 3. Wash all vegetables, peel carrot, and wash again. 4. Julienne all vegetables and set aside in small bowls. 5. In a large bowl, add the warm water. 6. Soak each sheet of rice paper in the water until it becomes pliable, about 30-45 seconds. 7. Remove rice paper wrapper from water, and gently squeeze off any additional water. 8. Lay rice paper wrapper flat on a large cutting board or damp tea towel. 9. In the center of the wrapper add 3 tablespoons of rice, and equal portions of squash, asparagus, carrot, bell pepper, and red cabbage. 10. Fold down the top end of the wrapper over the center tightly, fold in each of the sides over the center (should look similar to an envelope), and roll up tightly. Set aside and repeat with the seven remaining wrappers and remaining rice and vegetables. 11. To prepare the dipping sauce combine the soy sauce (tamari), ginger, garlic, agave or honey, and crushed red pepper flakes in a small bowl. 12. Stir well to combine and serve along-side the spring rolls. 13. To serve, cut each roll on a bias and serve alongside the dipping sauce.
About the Author: Jenny Manseau is a Chef, Culinary Nutrition student and author of the blog Creative Cooking Gluten Free. Jenny created her website after being diagnosed in 2008 with Celiac Disease and takes many "regular" every day recipes and alters them to the gluten-free diet.