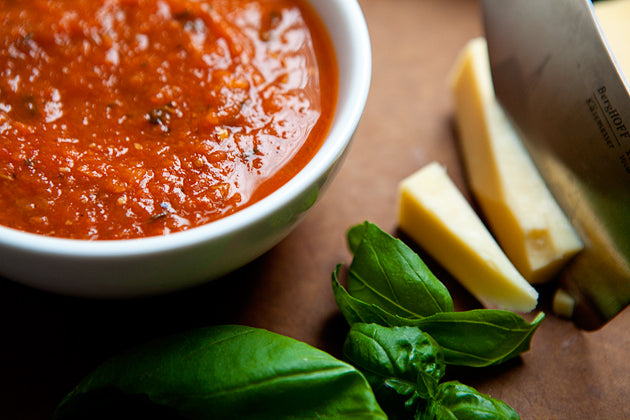 San marzano
canned tomatoes are the best according to my taste buds and a few Italian cooks will back me up on this. Flavorless tomatoes makes for a flavorless soup. Serve with the cheesiest of grilled cheese.
Ingredients:
1 28oz can chopped tomatoes extra virgin olive oil 2 stalks celery, diced 2 small carrots, diced 1 large yellow onion, diced 4 cloves garlic, minced 1 box (32oz) chicken or vegetable stock 2 bay leaves handful chopped fresh basil dash of red pepper flakes (if you like some heat) salt and pepper to taste 1/4 cup cream or milk (optional)
Directions:
1. Preheat the oven to 450F. Strain tomatoes, reserve the juice, and spread on a baking sheet. Drizzle with olive oil, salt and pepper, and roast for 15-20 minutes. 2. In a soup pot with a few glugs of olive oil, cook onion, celery, and carrots until tender. Add garlic and cook for another minute. 3. Add roasted tomatoes, reserved tomato juice, 2 cups of chicken broth, red pepper flakes, and bay leaves. Simmer for 20 minutes. 4. Add fresh basil and cream (if using). Salt and pepper to taste. 5. Puree with an immersion blender and add a bit more chicken/vegetable stock if it gets too thick.
About the Author: Rebecca is a nutritionist, sometimes writer, sometimes photographer, living in New York City with her husband and furry labradoodle. You can find her blogging at The Daily Muse.