Blog
Popeye Risotto - Gluten Free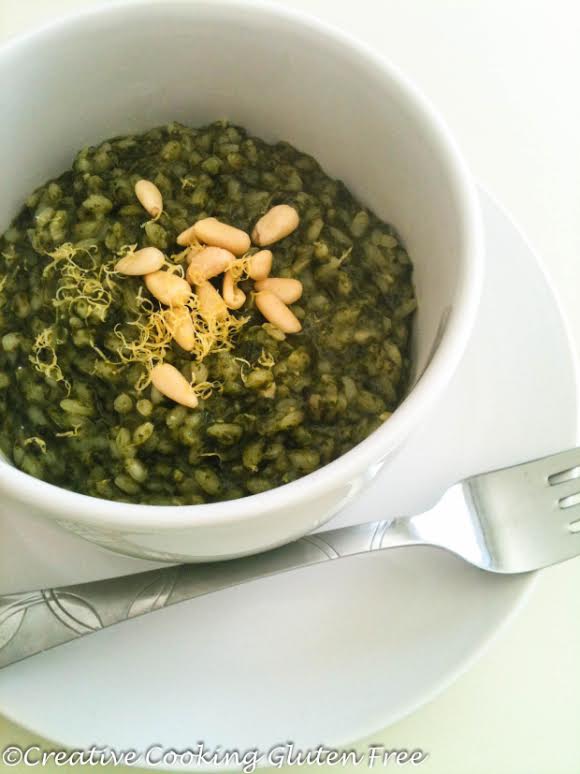 Popeye Risotto:
Spinach Stock
Olive oil 2 teaspoon
Garlic 2 tablespoons
Baby Spinach 9 oz (1 Bag)
Grey Salt 1/4 teaspoon
Black Pepper 1/8 teaspoon
White Wine 1/4 cup
Cardamom 2 Whole – crushed and seeds removed
Vegetable Stock 2 1/2 cups
Risotto:
Olive Oil 1 tablespoon
Butter 1 tablespoon
Bamboo Rice 1 cup
Ground Ginger 1/8 teaspoon
Parmesan Cheese, grated 1/4 cup
Method of Preparation:
Gather all ingredients and equipment.
Peel garlic and rough chop it, set aside.
In a large, heavy bottom skillet, heat 2 teaspoons of the olive oil over medium heat.
Add chopped garlic and saute for 1 minute.
Add cardamom seeds and baby spinach.
Cook over medium heat until spinach has wilted.
Add white wine and cook for an additional minute.
Season with salt and pepper
In the pitcher of a blender add 2 1/2 cups vegetable stock and spinach mixture.
Blend on high-speed until well blended.
Add spinach stock to a medium sauce pan and keep warm over low heat.
In the same skillet as before add remaining olive oil and butter over medium heat.
Once the butter has melted add the bamboo rice and stir until well coated.
Sprinkle ground ginger and stir well.
Stir in 1 cup of spinach stock – just enough to cover the rice.
Stir well and continue to stir until the rice has almost completely absorbed the stock.
Continue this until all stock has been added to rice and absorbed. This should take about 20-30 minutes.
Remove from heat and stir in Parmesan cheese.
To serve top with grated lemon zest and pine nuts (optional)
Chef Notes:You can use arborio rice instead of the bamboo rice, it will have the same texture and consistency. I have made a similar recipe with the arborio rice and it is very delicious and flavorful. It is easy being green…and delicious too!
About the Author: Jenny Manseau is a Chef, Culinary Nutrition student and author of the blog Creative Cooking Gluten Free. Jenny created her website after being diagnosed in 2008 with Celiac Disease and takes many "regular" every day recipes and alters them to the gluten-free diet.