Blog
Sweet potato, quinoa and salmon cakes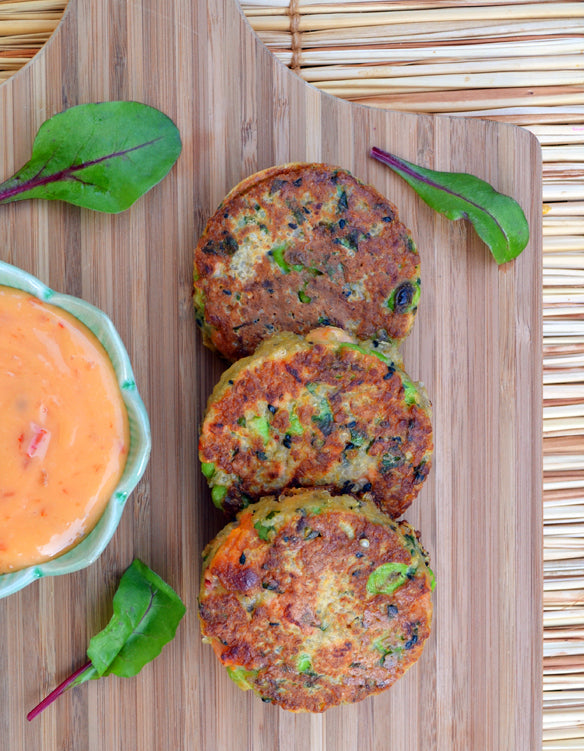 Ingredients: 1 cup (150g) plain (all-purpose) flour (gluten-free or regular) 1 teaspoon salt 3 eggs, lightly beaten ♦ 4 cups reserved undressed Sweet potato, quinoa and edamame salad (See below) 1 large salmon fillet (about 300g/10 oz), skinned and finely chopped 2 tablespoons sweet chilli sauce 2 tablespoons chopped chives 4 tablespoons olive oil, for frying Chilli mayo, to serve
Directions:
Combine flour and salt in a large bowl. Gradually add the eggs to the dry ingredients, whisking until smooth. ♦ Add the reserved undressed Sweet potato, quinoa and edamame salad. Add the chopped salmon, chilli sauce and chives, and mix thoroughly. Cover and refrigerate until required. Heat 1 tablespoon olive oil in a large non-stick frying pan. Place four oiled egg rings into the pan and fill each with fritter mixture. Flatten lightly with a spatula. Fry about 3 minutes, carefully remove the egg ring, and turn cakes over to cook the other side. Cakes should be golden and firm to touch. Repeat with remaining mixture. Cakes can be kept warm in a low oven until you're ready to serve. Serve quinoa cakes with a simple green salad and
chilli mayo
.
Sweet potato, quinoa and edamame salad with miso dressing
Ingredients:
2 tablespoons (30g) white miso paste 2 tablespoons olive oil 2 orange sweet potatoes (about 750g/1½ lb), peeled, cut into 2cm cubes Salt and freshly ground black pepper 800g (28 oz) frozen unshelled edamame, or 400g (14 oz/2 cups) frozen shelled edamame 2¼ cups (450g) white quinoa 3 cups coriander (cilantro), chopped, plus extra to serve ¼ cup black sesame seeds (or white, if unavailable),
toasted
MISO DRESSING:
2 heaped tablespoons (40g) white miso paste, extra 1 tablespoon honey 2 teaspoons soy sauce (gluten-free or regular) Small piece ginger, grated and chopped, about 1 tablespoon 1 tablespoon (15ml) water 1 tablespoon (15ml) rice wine vinegar
Directions:
Preheat oven to 200°C (390ºF). Mix 2 tablespoons miso paste and olive oil together to form a paste. Toss with the sweet potato in a large bowl, until well-coated. Place sweet potato onto a baking tray lined with baking paper. Season. Roast for 20 minutes or until tender. Set aside. Meanwhile, blanch unshelled (or shelled) edamame in boiling water for 3–4 minutes. Drain and allow to cool. If using unshelled edamame, squeeze the beans from their pods. Add edamame to the roasted sweet potato. Combine quinoa and 3 cups of water in a saucepan. Bring to the boil, cover and simmer for 5 minutes. Remove from heat and stand, covered, for ten minutes or until water has been absorbed. Spread quinoa out on a tray and set aside for ten minutes to dry. Add to the sweet potato and edamame, along with the coriander and sesame seeds. ♦ Reserve ⅓ of the undressed Sweet potato, quinoa and edamame salad (about 4 cups) for the Sweet potato and quinoa fritters. Meanwhile, make miso dressing. Place miso, honey, soy sauce, ginger and water in a small saucepan and warm over a low heat, stirring, until miso and honey are dissolved (1–2 minutes). Stir in rice wine vinegar. Set aside to cool. Drizzle dressing over the remaining salad, and toss gently. Scatter with extra sesame seeds and extra coriander. Salad serves 5–6.
About the Author: Saskia Ericson, graphic designer by day and passionate foodie by night; is the author of the blog One Equals Two, which promotes creative cooking with 'planned-overs' (planned leftovers). Planned-overs are easily transformed into a delicious and different second family meal in a flash; saving time, energy and money. You can also find Saskia on Facebook.