Blog
Mason Jar Carrot Noodle Salad w/Sweet Chili Vinaigrette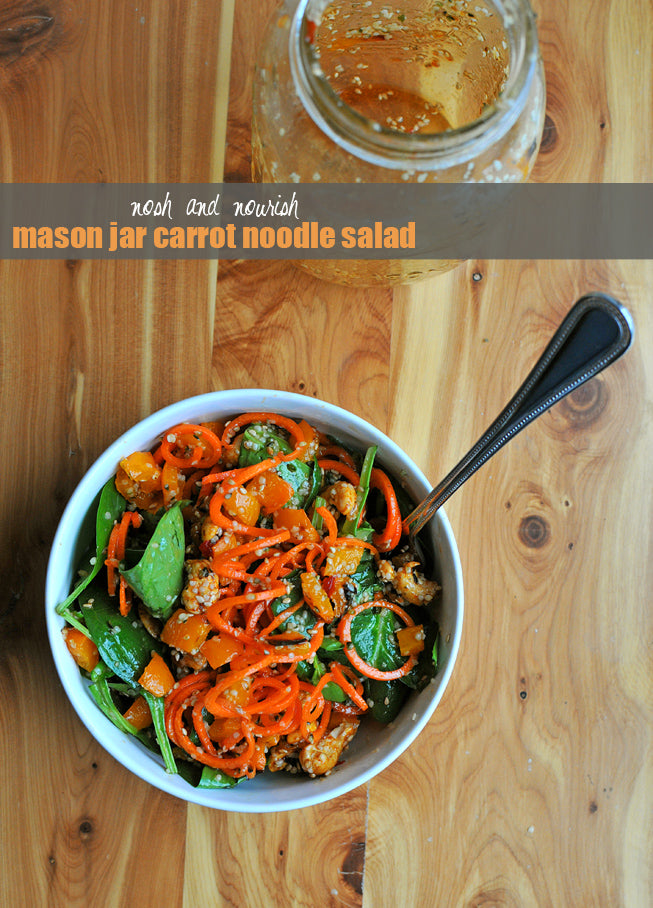 The key to a great mason jar salad is the layering and packing it in tight, so things don't move around. Ingredients:
1 tablespoon toasted sesame oil
1 tablespoon Thai sweet red chili sauce
1⁄2 teaspoon Garlic Powder
1 teaspoon rice vinegar
1 teaspoon Soy Sauce
1 teaspoon Dark Amber Maple Syrup
1 tablespoon toasted sesame seeds
1 Carrot (spiralized, or julienned)
1 roasted bell pepper
2 tablespoons Bob's Red Mill hulled hemp seeds
1⁄3 cup cashews (plain or flavored, like Asian Sesame)
2 cups Spinach (or sub your favorite greens)
About the Author: Kelly is the author, recipe creator, and food photographer behind the blog Nosh and Nourish. She incorporates nourishing superfoods into every meal for her husband, adorable toddler, and herself (think quinoa, Greek yogurt, chickpeas, kale, eggs, etc..) and manages to keep everything tasting absolutely delicious! Learn more by visiting her blog, at

http://noshandnourish.com/, or check out her new cookbook "Superfoods at Every Meal" here.